Teardown: Take a Peek Inside the Canon 5D Mark IV
Want to see the guts of the most anticipated DSLR of the year? You're in luck. Roger Cicala over at LensRentals took the time to tear down, piece-by-piece, a brand new Canon 5D Mark IV so you can take a look inside and … just maybe … learn something, too.
The full teardown is really comprehensive, but if you're interested in the highlights, scroll on down for some good ol' fashioned camera porn eye-candy.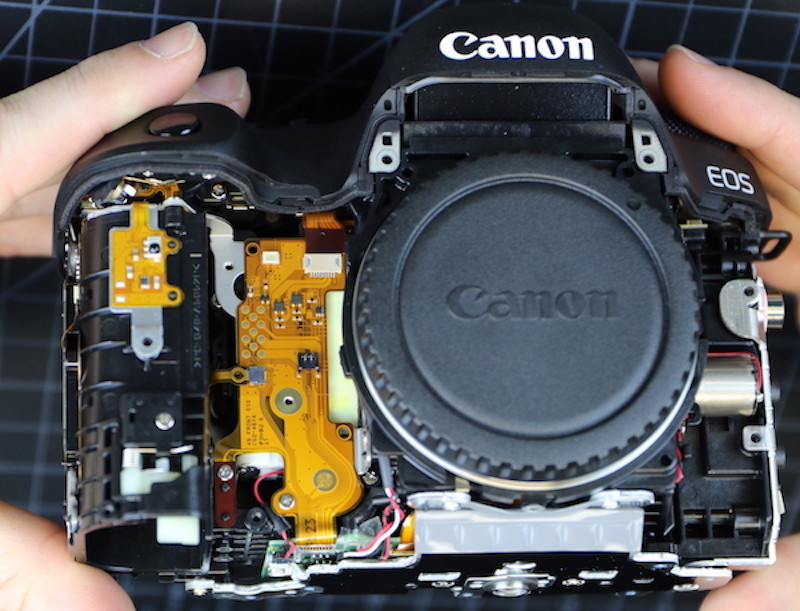 So… what does this all mean? Here's Roger's conclusion after breaking down the camera:
There's more air inside this camera than we're used to seeing. There are some empty spaces that aren't packed full of electronics. In other words, this camera probably could have been a bit smaller but Canon wanted to keep the form factor the same.

Construction is at least as robust as the recent 5 series releases and better than the Canon 5DIII, which is as it should be. There's a little more complexity with cables running hither and yon more than in previous Canon cameras, but that isn't going to affect operations at all.

[…]

Overall, it was an interesting disassembly with a fair amount of new quirks and tweaks, rather than the rather straightforward upgrade I was expecting.
Check out the full teardown with step-by-step explanations of each piece and a lot of interesting little detail shots over on LensRentals Blog.
---
Image credits: Photographs by Roger Cicala/LensRentals and used with permission.