Eyefi To Brick Its Older Wi-Fi Cards, And Photographers Aren't Happy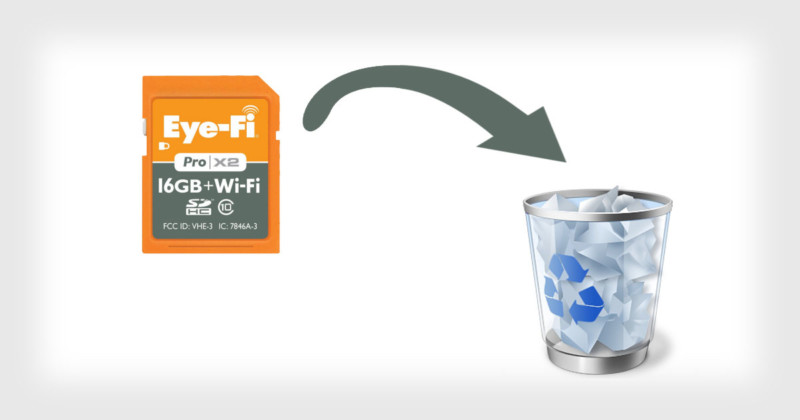 If you're a photographer shooting with Eyefi's older generation Wi-Fi memory cards, here's something you should know: your card will soon become more or less useless.

Just days after announcing that it had
sold its cloud services to Ricoh
, Eyefi sent out an email to customers this week, informing them that older X1 and X2 cards — everything prior to
the new Mobi line
— now have an "End of Life" date of September 16th, 2016.
This news may be particularly frustrating for photographers who purchased an Eyefi memory card not too long ago.
"Eye-Fi began phasing out sales of the X2 product line in 2012," Eyefi explains in an FAQ on its site. "The last version produced by the company were sold through authorized channels in the United States in March, 2015."
So if you purchased an X2 card more recently than March 2015, you probably got it through an unauthorized seller.
After September 16th, you will no longer be able to create an Eyefi Center account, which was required by X1 and X2 cards.
Certain functions of your X2 card, such as Direct Mode, may continue to function beyond the End of Life date, but you'll need to set it up prior to that date. Selective Transfer will also function if enabled early, but Relayed Transfer will cease to function.
The Eyefi software used by older cards will also no longer be updated or supported, so there's absolutely no guarantee that critical features will continue to work into the future.
It's rather unusual for products such as Wi-Fi cards to be bricked completely by the manufacturer, and some photographers are understandably upset about the news. One frustrated customer published an open letter to Eyefi on Hacker News.
"Receiving your email about removing support for X2 cards this morning has made me furious," the author writes. "That your company would have the gall to sell cards that would be obsolete within a few years is preposterous."
"I would have updated to the Mobi cards in time anyway, but out of principle I will avoid Eye-Fi products in the future and advise my photographing friends to do the same. Shame on your company."
Eyefi says the reason for the End of Life is that older wireless and encryption technologies are no longer safe and appropriate, so they're dropping support and forcing photographers to move to its newer products with newer technologies.
For photographers wishing to switch to newer Eyefi Mobi cards, Eyefi is offering a 20% discount for up to 3 units. However, we're guessing that many customers will now be thinking twice before jumping into the new Eyefi generation.