Oops: This Nikon Ad Shows a Fujifilm Camera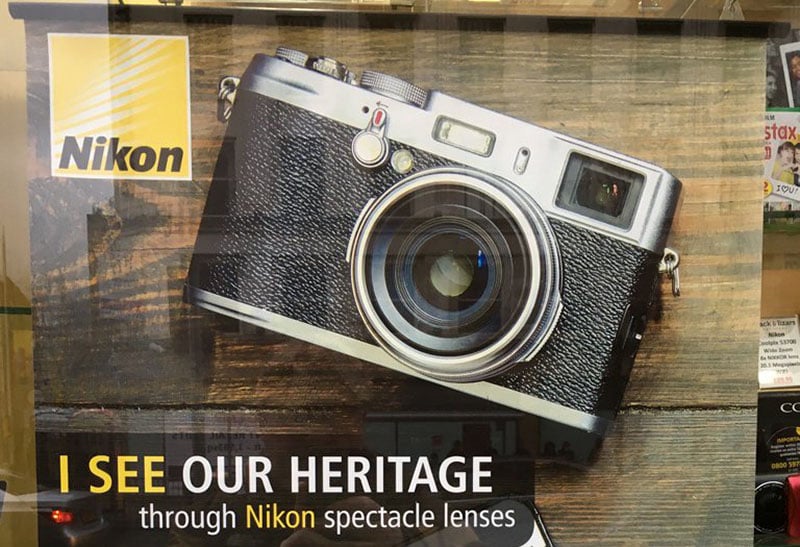 Nikon sure has a strange way of marketing its brand: one of its newest advertisements features a Fujifilm camera…

Photographer David McDonald spotted the curious advertisement while at Camera/Opticians in Belfast, Northern Ireland.
The ad shows a pair of glasses, what appears to be a Fujifilm X100, and the words "I See Our Heritage Through Nikon Spectacle Lenses."
We're not advertising experts, but we're guessing this isn't the best way to communicate the quality of your company's cameras.
(via David McDonald via Mirrorless Rumors)
---
Update on 3/16/16: Photographer David Hobby found the stock photo that was used for the ad:
Oh, snap: pic.twitter.com/rWGM3sdNYj

— David Hobby (@strobist) March 15, 2016
---
Update on 3/16/16: Here's an official statement we just received from Nikon Optical UK:
Nikon Optical Removes Advertisement Error

An in-store poster for a Nikon Ophthalmic lens product featured a camera from another brand. This was displayed in one optical store in Belfast, Northern Ireland. This was an oversight on our part. The poster has since been removed from the store and we are taking measures to strengthen the review process of our marketing material. Nikon Optical apologises for any confusion caused by this advertisement and we thank Mr David McDonald for bringing this to our attention.
---
Image credits: Photo by David McDonald and used with permission