Olympus Unveils the PEN-F, A Retro Camera Reborn for the Digital Era
Olympus today officially unveiled the new PEN-F, a sleek and retro mirrorless camera that's designed to be an ultimate tool for street photographers.

The new camera is a result of combining the latest digital technology with Olympus' 80 years of camera-making prowess, the company says. It's a digital update to the well-known original film PEN-F camera, which was the world's first half-frame SLR.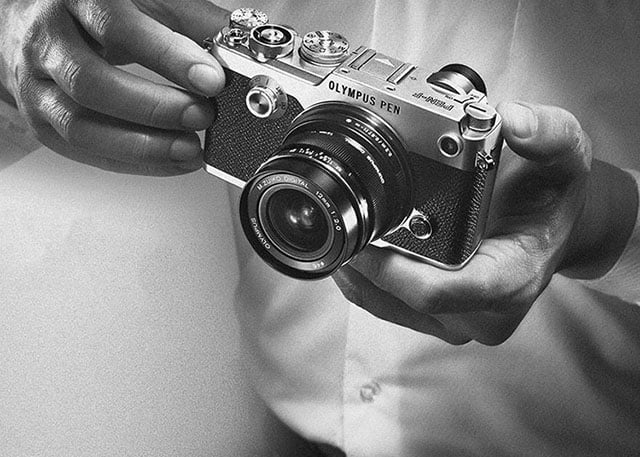 Inside the camera is a 20-megapixel Live MOS Micro Four Thirds sensor that leaves out a low-pass filter for increased resolution. The ISO range is 200-25600 (extendable to 80-25600), and the sensor is paired with a 5-axis sensor-shift image stabilization system that provides the equivalent of 5 stops of compensation (the system is compatible with older manual-focus lenses, which can be registered in the camera for EXIF data).
What's more, there's a High Res Shot Mode that is able to capture 50-megapixel RAW photos by combining 8 rapidly-captured images into a single frame (similar to the 40MP mode in the OM-D E-M5 II).
The PEN-F is fast: Olympus claims it has the shortest shutter-release time lag (0.044 seconds) of any compact system camera. It can also do 10fps with its mechanical shutter.
On the back of the camera is a 2.36-million-dot OLED electronic viewfinder and a large 3-inch 1.037-million-dot tilting LCD touchscreen.
For controls, there's a new Creative Dial on the front of the camera and mode and exposure compensation dials on the top. Both parts of the camera are crafted from magnesium, and the dials are made of aluminum.
Olympus says it devoted an "extraordinary" amount of attention and resources towards craftsmanship when it came to this camera. You won't be able to see any screws on the outside of the camera.
Other features of the camera include live film simulation, filter effects, a Simulated OVF mode in the EVF, Focus Bracketing, Silent Mode, Anti-Shock Mode for reducing shutter shake, focusing on the touchscreen while looking through the viewfinder, built-in Wi-Fi, 1080p video recording, and a magnified display function and Focus Peaking.
The Olympus PEN-F is available starting today in silver or black with a price tag of $1,200.