Google Uses Tiny Camera Cars to Shoot Tiny Street View of Tiny World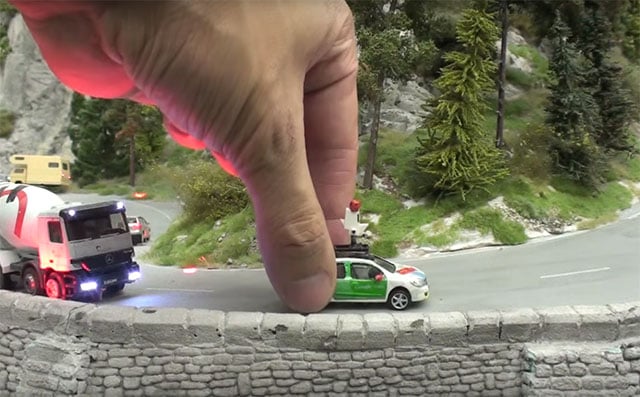 Google's Street View cameras have gone to the ends of the Earth, from under the sea to desolate deserts, in order to document the world in photos. The project is grand, but its latest effort is on a much smaller scale — literally.
The company just announced Street View for the famous Miniatur Wunderland in Hamburg, Germany, the world's largest model railway. To shoot the images, Google mounted tiny cameras to tiny vehicles (they also had a tiny Street View car look-alike drive around).


Miniatur Wunderland is a miniature world that spans 13,993-square-feet (1,300 square meters) of floor space and features 15,400 meters of track, 930 trains, 14,450 carriages, 335,000 lights, 228,000 trees, and 215,000 human figurines.
Google's miniature camera car actually drove around in the small world on the roads and the train tracks, weaving through the nooks and crannies to capture all the little details and hidden treasures.
Head on over to this microsite or this Street View gallery to explore 360-degree photos of Miniatur Wunderland's amazing mini recreations of places like a soccer stadium, the ski slopes of Austria, Oktoberfest, the Grand Canyon, Las Vegas, and Mount Rushmore.
Unlike Google's real-world Street View, however, you won't be able to move around through the world. The images also look like they were taken with 360-degree cameras above "ground level" — no word on if we'll see any of the mini camera car images show up interactively on the site.
(via Google Maps Blog via Engadget)