Ricoh Theta S: A New 360° Spherical Camera With Live Streaming
Ricoh has announced the new Theta S, the latest in the company's lineup of 360-degree cameras. The Theta S features two 12 MP sensors that interpolate with each other to output high-resolution 14.4 MP spherical still images or full 1080p HD video at 30fps. The device is also capable of streaming live video via its built-in USB or HDMI port and is compatible with Google's Street View technology.


The two lenses on each unit allow the device to capture full 360-degree spherical imagery with different set levels of exposure on each side. Low-light condition shooting is also possible thanks to the camera lenses' fast f/2 aperture, and you won't need to worry about your content being out of focus with the unit's fixed "3.9-inches to infinity" range. The dual sensors within the Theta S allow still images to be captured with a resolution of 5376×2688 for later sharing on the Theta website or you favorite social networking site.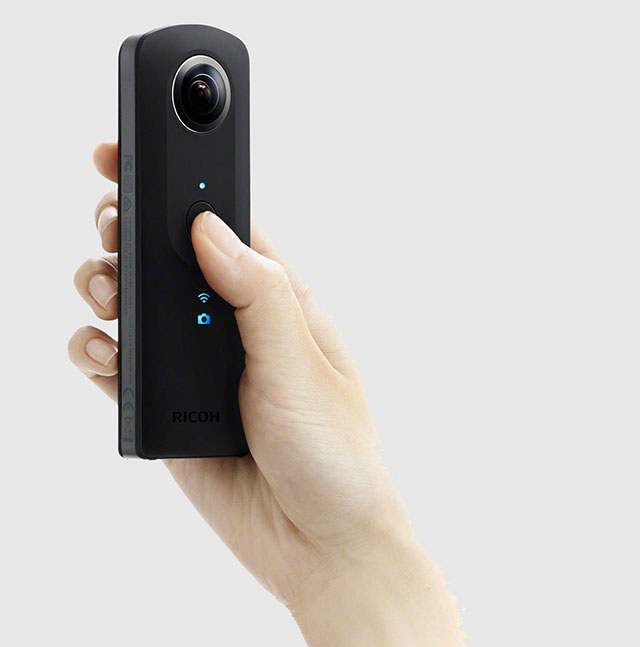 When streaming, users can choose to do so through the unit's HDMI type-D or micro USB connection. Available streaming outputs include 1080p at 30fps, 720p at 30fps, 720p at 15fps, or 480p at 30fps. Content recorded can then be saved to the unit's internal 8GB flash memory, but only 4GB of space is available for video storage.
Those looking for more manual control can shoot the Theta S in automatic, shutter priority, and ISO priority exposure modes. The device is capable of shutter speeds as fast as 1/6400th of a second and ISO sensitivity up to 1600. You can adjust the settings remotely from a mobile device thanks to the Theta S' built-in Wi-Fi capability.
Here's some Theta S drone footage Ricoh published today alongside its camera announcement:
The internal lithium-ion battery offers up to 260 shots per charge before needing to be recharged via the included USB cable. The Ricoh Theta S can be pre-ordered now and will be available November 10th with a price tag of $347.