Hands On with the Elinchrom Quadra ELB 400 Portable Lighting System
As photographers, we capture the light around us to preserve moments in time. Sometimes, however, we not only want to contain the light, but also control it. So, when Elinchrom asked us if we wanted to test their powerful ELB 400 portable battery pack and Quadra Pro flash heads, we, of course, said yes. Now, let's see what we can do with 424 watts of portable power.


Before we continue, I would like to say that I generally do not work with studio lighting. As a street photographer, the sun is almost always my primary source of light. As a result, I will be reviewing this equipment from a unique point of view; I have no preset standards. I simply know what I need, and I will see if the ELB 400 can deliver.
The pack we received included two an ELB 400 portable battery unit, two Quadra Pro flash heads, a spare lithium-ion battery, and elinchrom's 'Skyport' wireless trigger. For the review, we utilized a Nikon D7200 with a Nikkor 18-200mm f/3.5-5.6G AF-S ED VR II telephoto lens. The lights were mounted on Ravelli ALS air-cushioned light stands.
As mentioned before, the ELB 400 has 424 Ws of power with a long lasting battery that allows you to trigger 350 full power flashes. Most of the time we used the unit it was at half capacity, so by the time our shoot finished we had barely made a dent in the battery life which was extremely impressive. I wasn't sure how long the ELB 400 would honestly last on a single charge, but we could have kept going for hours.
Setting our gear up with the system was extremely easy. We popped the wireless Skyport trigger onto our Nikon's hot-shoe and began snapping away. The top of the ELB 400 has two light ports, and we hooked up both of our lights. The 'A' light port receives 66% of the overall power while the 'B' port receives 33%. As you might guess, we used the A port for our primary key light and our B port for our fill light.
For the test, we photographed two cars and their drivers. We were able to work with a beautiful Mazda RX 8 and a sporty Ford Focus ST. During our shooting, we found the ELB 400 to recycle extremely fast, meaning that when we needed to fire the lights they were always available. According to Elinchrom, the ELB 400 has a 20% faster recycling time than its predecessor.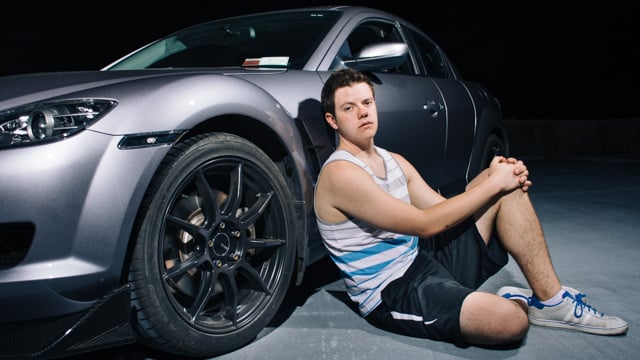 The unit was easy to control with only six buttons and a detailed OLED display. We could easily adjust the power, test the flash, or turn on the unit's powerful modeling lights. Even with the modeling lights on for a majority of our shooting, battery life did not seem to be majorly impacted. Also included on top of the unit is a 3.5mm sync jack, a micro USB socket for firmware updates, and the Skyport antenna.
Overall, the battery pack was light and easy to carry around and seemed to have the energizer bunny packed inside. The remote transmitter included with the unit also had buttons to remotely test the flash or adjust the overall flash power.
The two flash heads we received were incredibly portable and easy to carry around. We weren't huge fans of the diffusers being made of cheap plastic, but we lived. The plug-in flash tube can be replaced if needed and a 50 W daylight balanced LED modeling light comes built-in. If needed, Elinchrom manufacturers a number of light modifiers that easily snap onto their flash heads.
Included with the kit that was sent to us were two 2.5m Quadra Head Cables. Both were quite adequate to use, but we suggest picking up the 10m variation to ensure you reach as far as you need. The cables are well designed and feature twist-locking mechanisms on each side to ensure they stay plugged into the ELB 400.
When combined the kit was a blast to use and, even though I'm not someone used to working with studio flashes, I got the kit up and running in only a few minutes. The photographs you see within this article were taken at night, so if it were not for the lights used it would be pitch black.
The Elinchrom Quadra ELB 400 Two Pro Heads To Go Kit can be picked up at stores such as B&H for $2500. There are some variations available, so if you only need one flash head and one battery pack, it will cost you $1700. Take a look to see what fits your solution. To see any of the above photographs in full resolution, please visit our official Flickr album.
---
Author's note: I would like to thank a few individuals without whom this shoot would have been far more difficult. Thank you to Ali Haditalab, Peter Archambault, Joseph Amendolara, and Julie Micko.