On Shooting at f/0.95 for Wedding Photography
My name is Will Chao, and I'm a wedding photographer based in Melbourne, Australia. I'm a huge fan of large aperture lenses. I shoot every lens almost 100% of the time at the maximum aperture possible. At any given wedding, over 90% of my photos are taken with 35mm f/1.4, 85mm f/1.2, and 200mm f/2.0, each at its widest aperture setting. I'm also one of the few people who use f/1.2 and f/1.4 for group shots.

I have a Sigma 50mm f/1.4 Art lens, beautiful, a beautiful piece of glass with extraordinary image quality, but I still find the maximum aperture too small for my taste; That's why I bought the Sony A7 II and Mitakon 50mm f/0.95 combo, because I just simply have to have the largest aperture that's within the reach of my wallet.
I get criticized for this a lot: "What if you want to vary the depth of field?", "What if you want multiple subjects in focus?" "You're one of those newbs who think aperture is everything" etc…
Do I run into depth of field issues? Well, not necessarily. Of course, stopping down the aperture is an easy way to increase the depth of field, but where's the fun in that! I always say, if I buy a 85mm f/1.2L and use it at f/2.8 most of the time, I'd rather just shoot with a 70-200mm f/2.8 IS.
Instead, stopping down is the last thing I do to get multiple subjects in focus. I frequently adjust my distance, change my position, and vary my altitude in order to align subjects within the same focal plane. This not only adds a bit of challenge to an otherwise boring setup, it also helps me creatively by thinking outside the box. After a while, it really becomes second nature and I don't really think about it when I'm shooting anymore.
Anyway, enough about that, because you're here to see how the 50mm f/0.95 holds up in the real world! The reason I'm doing this short article is because we've all see tons of specialty lens reviews, but when it comes to large aperture, there's something that always makes me cringe: everyone reviews 1.2/0.95/1.4 lenses on close-up subjects but then comments on how unusable the shallow DOF is.
I honestly don't know anyone who would buy a f/0.95 lens just to shoot leaves or a pencil case — at that distance, of course the DOF is 1mm and the resulting image will look no better than a f/5.6 lens.
I'm rambling again, so here we go.
Firstly, I am truly impressed with this camera, it is everything my trusty Canon 5D Mark III is not: it has no focus inaccuracy issues (when using AF lenses), it has a true what-you-see-is-what-you-get viewfinder, and the lightness is just the cherry on top. I am also a proud owner of a 50,000 mAh powerbank so I can charge the camera in the car as I move from location to location.
There is no EVF lag what-so-ever with a f/0.95 lens, no matter how dark it is. By the way, did I tell you I can shoot in almost pitch darkness with the combination of such an extreme aperture, great high ISO performance and the 5-axis in-body stabilization?
Sharpness is not great, as expected from a f/0.95 lens. But it's not terrible either.
As far as multiple people go, there's no reason you can't get everyone in focus with f/0.95. The key to aligning the focal plane is to not only think about the x-axis — think on the y- and z-axis as well.
Of course, trying to manual focus at a wedding is no easy feat. Tracking is even harder but is made easier with the EVF. Focus peaking also gives you a great starting point but it can be inaccurate sometimes.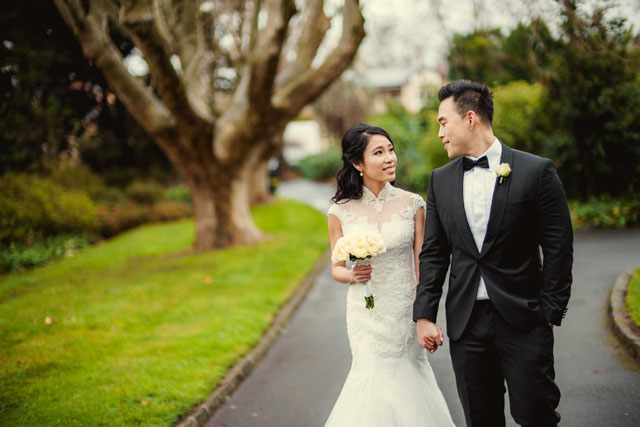 Summary
The Mitakon 50mm f/0.95 is a very welcome addition to my line-up of fast primes. The Sony A7 II also pleasantly surprised me in ways more than one, and the quality of the Sony sensor really is in another class compared to my Canon 5D Mark III. Yeah I said it!
Now I just need to wait for the new A7r II and hope it can deliver on expectations of fast AF'ing with Canon glass. By then I probably have no need for the Canon bodies.
---
Credits: First wedding venue: Montsalvat. Second wedding venue: Butleigh Wootton. First wedding photographed in conjunction with Clarte Photography.
---
About the author: Will Chao is a wedding photographer based in Melbourne, Australia. You can find more of his work on his website. This article also appeared here.