Wedding Photographer Calls Client 'Ugliest Bride' and 'Bridezilla'
No matter how difficult your client is, you probably shouldn't go public online with your differences. A wedding photographer in Australia has generated a firestorm of criticism after calling his client "the ugliest bride I ever photographed" and "Bridezilla."

The Independent reports that New South Wales-based photographer Lee Maxwell Judd is apologizing now after posting a harsh message on Facebook about newlyweds Ashlea and Daniel Howard.
After sharing a wedding photo of the couple on Facebook, Judd's account posted a comment saying: "Ugliest bride I have ever photographed. Winged the whole time. Bridezilla #1":
We don't know what Judd experienced in working with Ms. Howard, but people didn't take kindly to seeing a bride called the ugliest ever. Angry comments quickly flooded into Judd's Facebook page.
Judd now claims that the message was a result of his Facebook page getting hacked. He also claims that the attention has gotten him booked through 2019.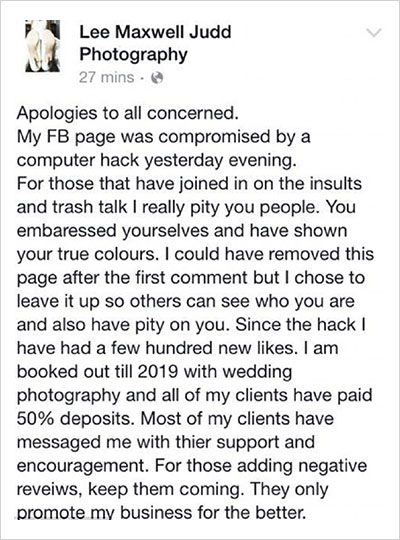 Ms. Howard had harsh words and criticisms of her own regarding Judd's work and business:
For Judd, the consequences of that short Facebook caption have been severe — at least in terms of PR. The story has been reported in major publications around the world. Over 200 reviews have also been left on Judd's Facebook page, with a torrent of negative reviews bringing his average rating down to 1.7 out of 5 stars.
Regardless of whether or not this all started with a hacked Facebook account, the lesson is clear: if you're a working photographer, you should probably keep criticisms of your clients to yourself and off the Web.