Instagram Clarifies Its Rules on Copyright and Nudity
Instagram updated its community guidelines today in order to give users a clearer picture of where the service stands on the issues of copyright and nudity. Policies themselves haven't changed, Instagram says, but the rules have been fleshed out and clarified in response to user questions and various incidents.

Having your photos shared on someone's Instagram account without your permission or knowledge has become a major source of frustration for photographers. Instagram reaffirmed today that these types of copyright violations are strictly against the rules.
"Share only photos and videos that you've taken or have the right to share," Instagram writes. "As always, you own the content you post on Instagram. Remember to post authentic content, and don't post anything you've copied or collected from the Internet that you don't have the right to post."
The service also has a dedicated page to bring users up to speed on how copyright works. The words are simple enough, but reporting and enforcing copyright issues aren't.
"Instagram sure doesn't make it easy to report copyrighted content," TechCrunch points out. "While you can report most other types of violations right from the Report button in the app, you have to fill out an obscure separate form for copyright issues."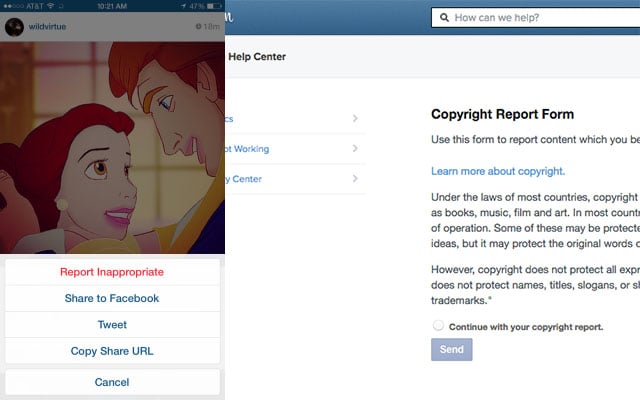 On the issue of nudity, Instagram is now saying that breastfeeding and post-mastectomy scarring shots are allowed — just don't post a close up of your bare bottom…
"Post photos and videos that are appropriate for a diverse audience," Instagram says. "We know that there are times when people might want to share nude images that are artistic or creative in nature, but for a variety of reasons, we don't allow nudity on Instagram."
"This includes photos, videos, and some digitally-created content that show sexual intercourse, genitals, and close-ups of fully-nude buttocks. It also includes some photos of female nipples, but photos of post-mastectomy scarring and women actively breastfeeding are allowed. Nudity in photos of paintings and sculptures is OK, too."
Late last month, Instagram was criticized for deleting self-portraits by a fully clothed artist who had period blood visible on her pants.
This policy document refresh by Instagram comes just weeks after Facebook, its parent company, announced similar clarifications for photos on its service.