A Quick Introduction to Shooting with a Tilt-Shift Lens
A while back I got my hands on my first tilt-shift lens. Since then I have carried it with me nearly every day, grocery shopping and subway riding – you name it. It's quite a special and fascinating piece of glass even having aged 43 years.

What is a Tilt-Shift Lens?
A tilt-shift or perspective-control lens is a specialized lens that has the ability to moderately rotate the image focal plane with a pitch or yaw, as well as skew the image perspective. This is possible by additional design features that allows the lens to physically tilt, shift, and rotate.
The particular tilt-shift lens model I got my hands on was released in 1972, the same year as Atari's release of the infamous 'Pong' video game.
A tilt-shift lens has 6 unique applications.
1. Miniature Effect
2. Correcting converging vertical lines
3. Avoiding obstructions or reflections
4. Sideways tilt
5. Increasing depth of field
6. Panoramic shots
Breaking the Rules
When using a tilt-shift lens you will find it adds a whole new dimension to everything you knew about the principles of photography. Even the simplest of cameras have two basic steps for use. Point and shoot. With a tilt-shift lens it's quite different.
The below video details the use of a real tilt-shift photography lens for use of correcting converging vertical lines, an important characteristic of architectural photography.
Note: Keep in mind at no point is the tilt feature of a tilt-shift lens utilized in this video or article. Tilt is not a necessary feature for correcting converging vertical lines. It should also be noted that tilting the lens has a different effect as tilting the camera.
What Does 'Converging Verticals' Mean?
Converging verticals is a term typically used to describe architectural images having perspective distortion. It means that the vertical lines in the image will at some point theoretically converge. This is how a standard lens sees as well as the human eye, when viewed from above or below the subject. Architecturally this is not an accurate representation of the angles of a building.
What's Going On Here?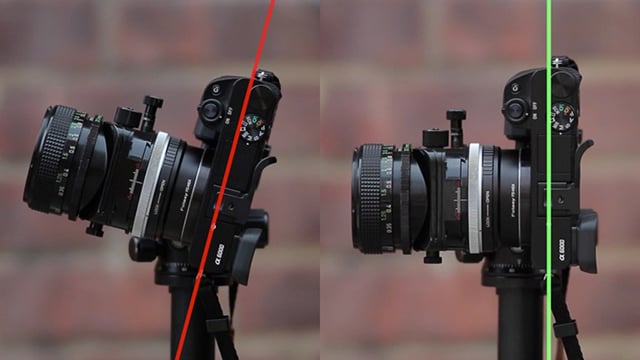 In a typical situation if you were trying to take a picture of the building you would of course angle the camera upwards. It is the angling of the camera up or down that makes the building appear to lean back or taper. Using the shift function of a tilt-shift lens enables control over vertical framing while maintaining the a parallel relationship between the camera sensor and building facade.
Further Study of Tilt-Shift Lenses
Here are two of my favorite videos on tilt-shift lenses. They explore all the unique abilities of a real perspective control lens.
---
About the author: Jordan Lockhart is a photographer based in Manhattan and the man behind CameraPlex, a website with camera news, tips, and articles. This article originally appeared here.