A First Glimpse of Canon's Small 4K Camera
Canon has long been rumored to have a small 4K camera up its sleeve, and now the world is getting its first glimpse of the new product. The company has unveiled the camera at a press event in China ahead of its rumored official launch in the United States at the NAB 2015 show in Las Vegas next month.

The 4K concept camera is roughly DSLR-sized and appears to have a rotating grip. Different views of the camera were captured at the event by
the Chinese Photo Association
, photographer
Li Bai
, and Chinese gadget site
Evolife
.
Canon Rumors suggests that the camera will have a 1-inch CMOS sensor, a 10X optical zoom 8.9-89mm (24-240mm in 35mm terms) f/2.8-5.6 lens, a 58mm filter, built-in Wi-Fi, and an external viewfinder. "This definitely looks to be Canon's foray into the drone market," they write.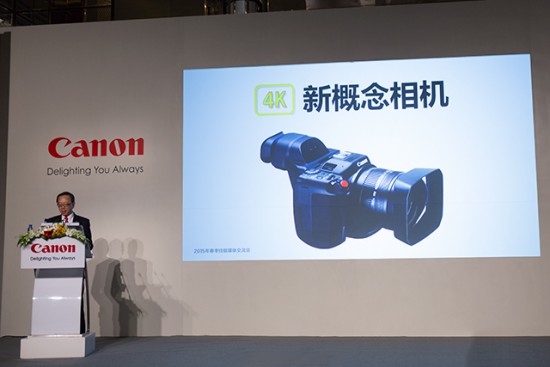 Jackie Chan made an appearance at the show to help promote the new camera.