Unretouched Portrait of Cindy Crawford Sparks New Discussion About Photoshop and Beauty
An unretouched photograph of Cindy Crawford has leaked onto the Web, causing a fresh new wave of discussion and debate about Photoshop and what women's bodies really look like.

It appears the image was first posted on Twitter by British TV anchor Charlene White. In
the tweet
, White writes, "Cindy Crawford's April spread in Marie Claire features 100% non-retouched photos. Take a bow Ms. C." Here's the photo: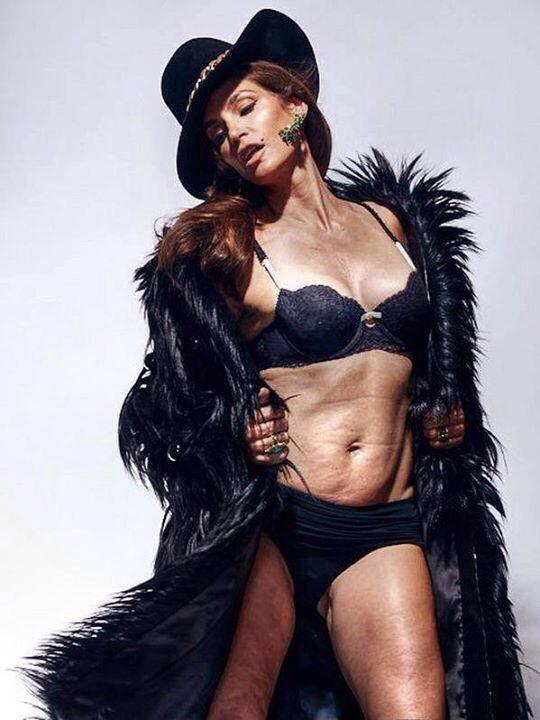 The image shows the 48-year-old supermodel posing for a magazine photo shoot. Although White claims that the photo will appear in an upcoming issue of Marie Claire, the magazine says that won't be the case. It writes that the photo's "origins are actually from a December 2013 cover story from Marie Claire Mexico and Latin America. It appears that this unretouched version is a leak."
"No matter where the photo came from, it's an enlightenment," the magazine says. "We've always known Crawford was beautiful, but seeing her like this only makes us love her more."
It also quotes Crawford herself as recently saying: "I really think—at any age—it's learning to be comfortable in your own skin […] What makes you the most attractive is self-confidence. That's what people see."
Countless people are now chiming in through social networks to applaud Crawford for the leaked photo and speak out against manipulating women's bodies with Photoshop:
People are so used Photoshopped pics, that an unretouched image of #cindycrawford is considered shocking http://t.co/G9SesGLorI @YahooBeauty

— Sara Bliss (@sarablissnyc) February 15, 2015
We believe in #REAL and wish the industry would stop photoshopping magazines unnecessarily. Bravo #CindyCrawford http://t.co/h3sGfuotco

— encircled (@encircled_) February 15, 2015
If we have to endure mainstream media representations of womanhood and beauty, then at least let them be real ones #CindyCrawford

— Joanne K. Hawkins (@ReddBaroness) February 15, 2015
50 shades of reality! This is why #CindyCrawford holds the #SUPERMODEL title!. Take a bow Ms. Crawford.

— Fabi Crosara Gorak (@biacrosara) February 15, 2015
Much respect for #CindyCrawford. Beautiful Lady. Thanks for your honesty and for making the rest of us feel a little better about ourselves

— amy scott (@realamyscott) February 15, 2015
This is why #CindyCrawford holds the #SUPERMODEL title!. The untouched photo is inspiring women everywhere http://t.co/V2aHLml1BW

— Richard Marin (@RichardMarin) February 14, 2015
Last month, an alleged unretouched photo of Justin Bieber was "leaked" onto the Web. That one also caused a hoopla online, but the reaction was overwhelmingly against Bieber and the Photoshop work that had apparently been done to improve his image. The authenticity of that image has also been brought into serious question.
(via Charlene White via TIME)