Shooting Aston Martins from a Minivan at 120MPH on the Daytona Speedway
Here's an interesting 1-minute behind-the-scenes video showing how the racing team The Racer's Group (TRG) recently did a photo shoot that involved two Aston Martins zipping around the Daytona International Speedway.

The shoot involved 6 people, two Aston Martin V12 Vantage GT3 racecars worth about $750,000 each, and a van rental policy from Enterprise Rent-a-Car.
TRG Chief Communications Officer Jason Myers drove the minivan around the track at speeds of up to 120 miles per hour while team photographer Brian Cleary pointed his camera out the back of the open vehicle.
Cleary wasn't secured with any kind of safety harness or device. When asked to use the minivan's seatbelt around his arm as a safety strap, the photographer replied: "I've lived a full life, don't worry about me. Just drive us steadily, please."
Here are some of the photographs that resulted from the shoot: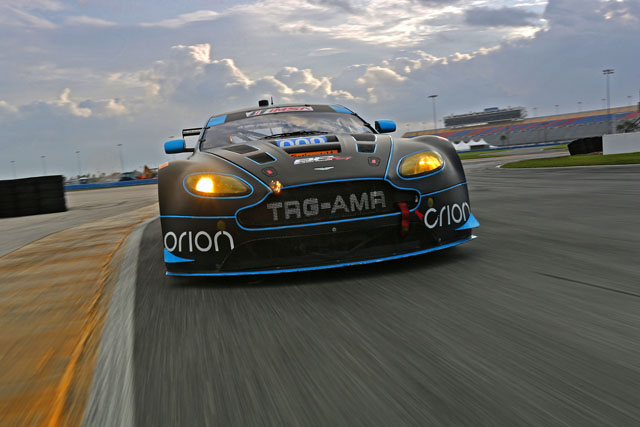 You can find some other photos from the day in this online gallery.
---
Image credits: Photographs by Brian Cleary/The Racer's Group and used with permission