Mother Love: A Photographer's Journey in the Reborn Subculture of Realistic Dolls
While pursuing a self-portrait project about motherhood, photographer Jamie Diamond stumbled upon the world of reborn dolls. These are realistic dolls that are made to look like actual babies as much as possible.
An entire subculture exists around this idea: the process of creating these dolls is called "reborning," and the artists who create them are called "reborners."

Diamond spent a year immersing herself in a community of reborners, investigating their craft and documenting their lives through portraits.
Once she had a deeper understanding of this strange new world, Diamond became a reborner herself. She created a working nursery in her studio called the "Bitten Apple Nursery" and began reborning dolls.
She also began listing her own dolls on eBay. Before putting each doll up for "adoption" on the auction service, Diamond photographed it in her studio using a large format camera. The "image becomes the remnant of this exchange," she says.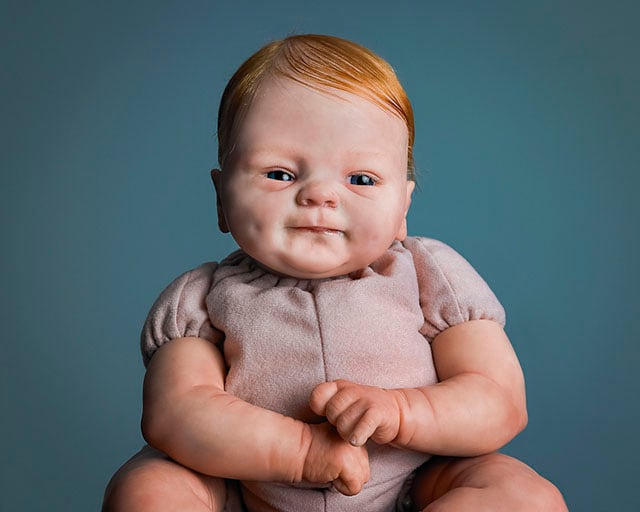 For another series of photos, Diamond asked other reborners from the community to take her dolls and "individual interpret and idealize" them. Diamond took these dressed up dolls and shot photos that mimic the look of school portraits. "Each of the dolls are unique to their maker's hand, but share an uncanny similarity through their common origin," Diamond says.
"Working with the Reborn community has allowed me to explore the grey area between reality and artifice where relationships are constructed with inanimate objects, between human and doll, artist and artwork, uncanny and real," the photographer writes. "I have been engaged with this community now for four years and while working and learning from these women, I've become fascinated by the fiction and performance at the core of their practice and the art making that supports their fantasy."
You can find more photos from this project over on Diamond's website.
---
Image credits: Photographs by Jamie Diamond and used with permission