The Magic of Trading, or: How I Got a $2,100 Canon 85mm f/1.2L II for Just $145
I got a $2,100 Canon 85mm f/1.2L for $145 earlier this year. To be honest, it was more like $145 plus a couple trips to Starbucks, but it was still a great adventure… and the secret to how I get most of my gear with what little budget I've got.
Here's how I did it: trading.

Yep, it's all about trading. You have what someone else wants, they have what you want, so you simply swap. Usually one person "wins" the trade, meaning value-wise they got the better valued item. But that's one thing I love most about trading, everyone wins. The trick is to just win more.
How much is a lens you NEVER use really worth? Is a $400 lens you NEVER use better than a $300 lens you would use every single day (and one that expands your capabilities)? In some cases, that $300 lens is worth more to you, which is the thing to work towards to become a master trader.
Surely there aren't people all over the place willing to trade their higher valued items for your lesser ones… or are there? They're out there, but finding them involves patience and persistence. I usually have a desk full of camera gear at any given time that's up for grabs, I just haven't found them a new home yet.
Below is my current stash of gear to trade (or sell if the price is right.) Each piece gotten either ridiculously cheap, or through a trade that went in my favor. I cruise Craigslist a lot, and local Facebook groups that revolve around buy/trade of electronics, find what's out there, and make offers. I get turned down sometimes, but on occasion, I strike gold.
The Story of How I Got My Canon 85mm f/1.2L II
I usually just trade up for items to eventually sell for a profit (buy something for $100, trade up until I have something worth $500, and then sell it) but occasionally I have a goal in mind. This fall I really wanted a Canon 85mm 1.2L — something I have lusted after since I started shooting — and so I decided to go specifically for that.
I found someone who had one listed on Craigslist for $1,750, but he was only open to trade offers for a Canon 5D II. Since 5D II cameras were much more prevalent in the market, and noticeably cheaper ($1,400ish refurbished, $1,200ish used) this camera became my goal.
How I Began
I had to find a starter point for the trade. I had a few items I got cheap, and decided to start with a Canon G12 that I got from a pawn shop for $140 (it had no charger, but Amazon had one for $5). Since they still fetched $300ish used, it was a nice place to start. I listed it on Craigslist for $300 and mentioned I was open to trade offers.
At the same time, I hit up every Craigslist ad I could find in the $300-$400 range and contacted them to propose a trade. I found a gentleman selling a Canon T3i kit for $440. He listed in the ad that he purchased the camera for his wife, and that it was just "too much camera."
BINGO.
That's what I want to hear. I emailed him and mentioned my interest. I said I was in the opposite predicament, that I had a top of the line bridge camera that was known for its quality and ease of use. I showed him images I had taken on vacation with the G12, and after a little discussion, we ended up trading.
Show Examples of the Items in Use
That is something that has helped me immensely in making trades. I tend to bring the items I have to trade along to assignments and shoots in general to both check it out (making sure it's working properly) and to get samples to show potential customers. By showing what the item is capable of (a decade of experience not included, haha), I have increased its value, somewhat.
I'm sure many of you have heard "That picture is great, you must have a great camera!" This is how many people think (a great camera takes great pictures), so if I show them a great picture taken with a particular camera, it must be a great camera.
Also, by showcasing professional results, it increases their impression of me. If I'm a professional photographer, I must know all about the gear, including fair used prices. I must be pricing things fairly.
I do price things fairly when I sell. I price on the higher end of reasonable to leave wiggle room for them to talk me down. I just try and push for trades that are in my favor more often than not.
The Trade Path
That T3i kit was traded for a $709 Canon EF 70-200mm f/4L (non IS), which in turn was traded for a $1,150 24-105mm f/4L (he had gotten a 24-70L and wanted something longer to fit his kit). That 24-105/4L was traded for a $1,050 Canon EF 135mm f/2.0L (he didn't shoot as many portraits anymore, and wanted something general use), which was traded for a $1,480 Canon EF 35mm f/1.4L (he stopped shooting weddings and wanted a portrait lens)
That Canon EF 35mm f/1.4L was traded for a Canon 5D II with a grip — one with only 15,000 actuations. I'm in great shape here, with some nice bargaining power.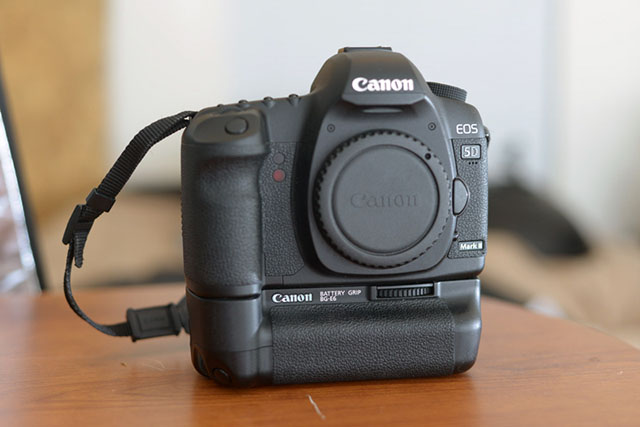 And there we are. I messaged the gentleman with the 85L I had spoken with 2 weeks prior and asked if he still had the lens. He did, and he was still interested in trading it for a 5D II. I told him about the camera I had, with the OEM grip, with low use, and we set up a meeting.
I went home that night with a brilliant new lens, one I had been wanting for ages. The best part of it all? The price. I was able to get one of Canon's best lenses, one legendary by many accounts, for $20 more than the cheapest Canon prime lens out there, the EF 50mm f/1.8 II.
---
Editor's note: If you enjoyed this post, here are two relevant articles we posted in the past: a guide to buying used DSLR gear on Craigslist, and a checklist you can use when doing so.
---
About the author: Jay Leavitt is a hobbyist photographer who tries to push himself as far as he can go. With many budget constraints around him at times, he does what he can to not let them hold him back at all. Leavitt blogs at Shooting on a Budget, where this article originally appeared.