A Father's Touching Photos of His Two Sons and Their Teddy Bear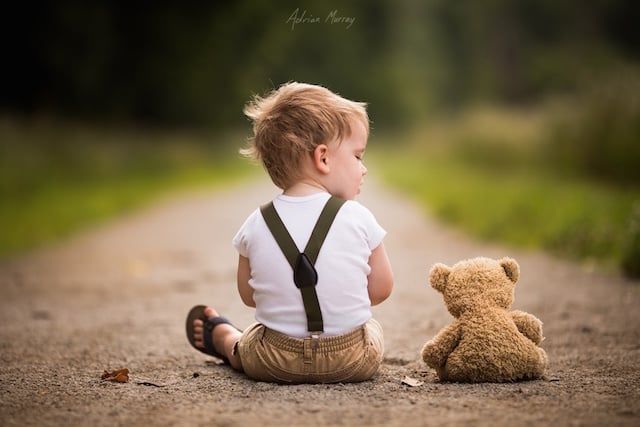 There are few things that symbolize the innocence of childhood the way a teddy bear does. A stuffed companion who is as real to a 2-year-old as anything made of flesh and blood, at that age the teddy bear isn't just something you play with… it plays back.
It's this innocence and wonder that photographer Adrian Murray captures in his touching photographs of his two boys, Emerson and Grayson, and their toy bear.

Murray only got serious about photography after his now 2-year-old son Emerson gave Murray and his wife a horrible health scare. As a then 10-month-old Emerson lay recovering in the hospital, Murray wished he had more photos of him.
That wish — and a serious need for a stress relieving hobby — has since turned into a portfolio full of wonderful photos of his two boys, many of which include their toy bear.
These photos, Murray tells us, were heavily inspired by the Winnie the Pooh stories. And while it might look like the bear is doing things most teddies can't do in some of the shots, none of the images are augmented in Photoshop.
"All photos were only edited in Lightroom so the teddy bear was actually in the middle of the 'action' in the shot," Murray tells us. "Just like all of my other photos, no Photoshop was used. I modified one particular teddy bear so it'd be able to do what I wanted: stand, hang, sit, grab, 'dance,' etc."
Here's a look at the rest of the photos in the series: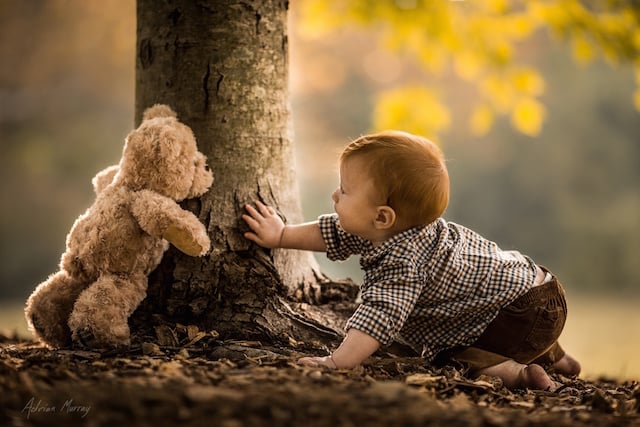 As Murray told 500px a couple of months ago, all of the photos are captured with a Canon 6D, usually attached to a 135mm f/2L lens. He usually shoots manual, wide open, at a low ISO, and adjusts his shutter speed accordingly. Most of the photos are natural light, although he does have a couple of speedlights he'll occasionally pull out.
But his photos are less about technique and post-processing as they are about capturing or creating moments that really represent childhood.
"Childhood is a wonderful thing that shouldn't be forgotten," he tells My Modern Met. "Seeing my sons explore the world with fresh eyes has helped me try to do the same. I think that's an important reminder for anyone."
To see more of Murray's work, head over to his 500px account or follow him on Facebook.
---
Image credits: Photographs by Adrian Murray and used with permission