Using the Fuji GX 617 Camera to Capture 6x17cm Panoramic Negatives on 120 Film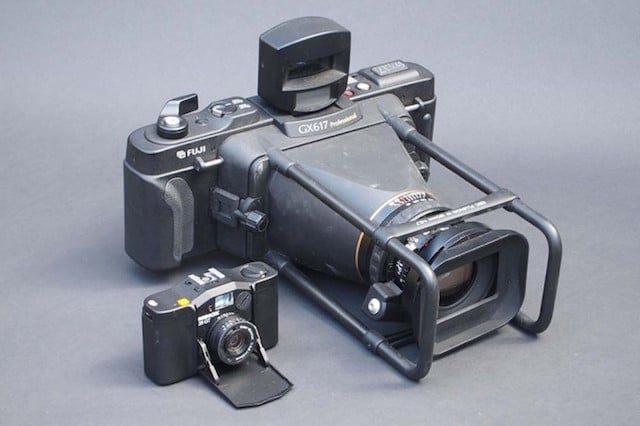 This monster, pictured here next to a Minox, yields 6 x 17 centimeter slides or negatives on 120 film, 4 images on a roll which you can blow up to insane dimensions.
It all started in my photo club, where someone showed 1 meter big prints from Scotland. These landscapes were so incredibly detailed and rich they totally overwhelmed me, they hit me like lightning. They were taken with a Linhof 6×17 panoramic camera.
I wanted to do this, too, and started researching panoramic photography. The price of the 6×17 camera's was so high, however, that I couldn't possible buy one. The, in a local photo shop, this Fuji for sale with a 90mm (90° image angle) and an 180mm (45° image angle).
A search on the Net confirmed that this, with its interchangeable lenses and good viewfinder, was probably the best 6×17 camera. The price was good, too, 5,000 Euro's! Impossible. Every time I drove by there, that camera sat there, just to annoy me. I had it taken out one more time, what a piece! In the end I couldn't bear it anymore and I took out a bank loan.
In the photo club they had told me that finding compositions in the 1 by 3 aspect ratio was extremely difficult. I didn't dare shoot the camera. After three months of hesitation I decided it was enough and I took it for a spin. All worked fine. That day the lid was off the pot, I shot all day, went to four locations. Then the moment of truth: got my slides back.I can tell you that absolutely nothing matches the impact of a sparkling 6×17 Velvia slide on the light table. The detail was insane. I can tell you I was hooked, then.
The 1×3 aspect ratio came very natural to me and soon I began to shoot worthwhile images. I ran into another limit: The images screamed for really big printing, at least two meters, and such a print, mounted, cost about 400 Euro's. I got a few made, which were overwhelming, but when I tried to sell them, no one wanted them. First of all, the price (everyone buys posters at the IKEA for 6 Euro's) and second, no one could hang such a monster print. I could hang one in my small home.
So, there I was, totally frustrated, with 60 mind-blowing images I couldn't do anything with. Should I sell the camera? I decided on a moratorium of a year.
I found out after a year that I don't need 2 meter big prints to enjoy the camera. Half meter images also show that there's something different going on from your regular DSLR images. The detail and colors are much richer. So I started shooting the camera again. Technically, the camera is extremely basic: distance (no rangefinder), speed, opening, transport. It requires very strict discipline to shoot it. That make it a very enjoyable experience, because you're in total control. The lenses are very, very sharp.
Well, enough talk, let's see some images! All shots are from Antwerp, Belgium.
This is Antwerp, with the cruise ship Europa in front of it. I read in a local magazine it 'd be in town for just one day and I went out to shoot it. The original slide is just not sharp enough to read the licence plates of the cars parked. Because the 2 minutes exposure you see no people. At 1PM the boat's horn went off and a firework started. I had crossed a perimeter to do my shot, and a continuous rain of firework debris fell on me. I was afraid for my lens. I was too close to the firework to make decent images.
That you make one image, complete, at exposure, is vastly advantageous to stitching in a DSLR. You can take action shots. One of my panorama's is a flock of pigeons passing over at close distance.
This image I stood on the road, waited for a car coming to me, another coming from behind and exposed for 30 seconds.

This is the image of the fireworks of the inauguration of the MAS (Museum Aan de Stroom, museum at the river) I was at the other bank of the river, used the 180mm; To my amazement I was the only one there, which makes this shot unique.
I had set up, needing 2 minutes' worth of exposure.
While exposing, a flash went off. A guy with a point and shoot. My exposure was ruined. I waited until he was gone and started over. Another flash. The guy had come back! Started over again, a third flash. The guy had come back again. I explained that he ruined my exposures and asked him to not to flash anymore. Without a word he turned away.
The petrochemical industry downtown. On the slide, you clearly see a crane cable two kilometers away.
The Antwerp cathedral. To make this shot, I went downtown five or six times to get the clear sky. Then I waited until the light was all balanced.
This is a shot hyperfocally set. The cathedral tower could be a little sharper because of it, but still you see the cement bonding the stones together at the top.
---
About the author: Dirk is a 56-year-old mechanical engineer who first picked up a camera at 18 years old. Since then he's gathered a handful of cameras and lenses, each of which he does his best to put through their paces. The original article can be found here.
---
P.S. Here's a photo of Dirk with that 'handful' of cameras: