Review: Can Canon's PowerShot G7 X Beat Out Sony's RX100 Series?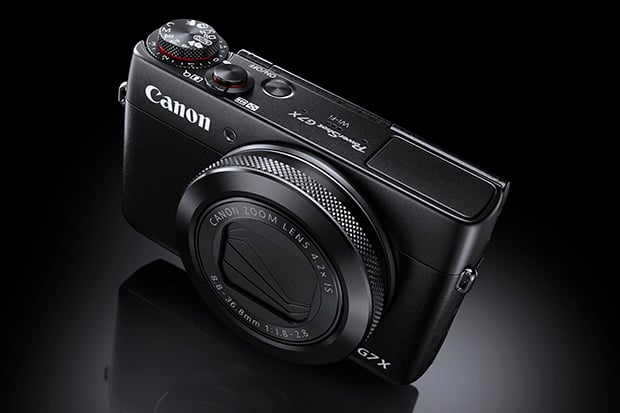 Canon perceived premium compact users to want a bright powerful zoom lens with relatively large sensor and a viewfinder in the PowerShot G1X Mk II and G16, but Sony proved astutely there was a huge demand for a quality compact that could slip into a pocket.
When Canon was busy building old-school destroyers, Sony designed a sleek modern frigate in the form of the RX100 with a 1" sensor. It took Canon two years to respond, but they finally launched a compact with but one purpose – to regain the throne of best compact from Sony.
Sibling Rivalry
Spec for spec, the Canon PowerShot G7 X matches the Sony very closely on paper, beating the RX100 Mk III on some fronts and losing out in some aspects. I can only imagine Canon engineers pasted a RX100 poster on the office wall with a bull's eye painted on it. But is the Canon a worthy rival to the camera that redefined the premium compact class?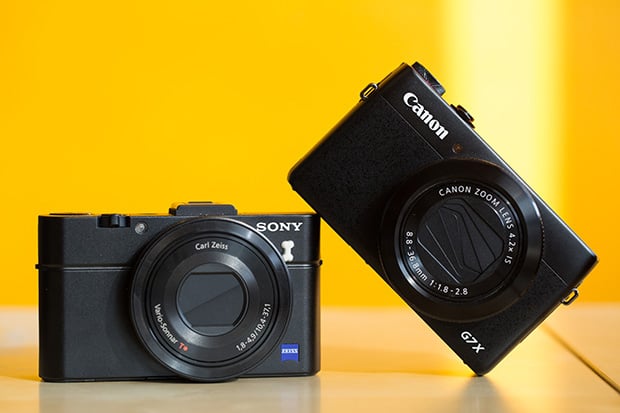 Surprisingly the Canon G7 X and Sony RX100 III could be stepbrothers. Canon allegedly admitted the 20MP 1″ sensor was not developed internally, fueling speculations that G7 X could be using the same Sony 20-MP 1" BSI CMOS sensor. Any difference between the two rivals can be attributed to the lens and design philosophy of the engineering teams from both sides.
Similar in size and weight to the RX100 III, the G7 X pips the Sony with a key advantage — its 24-100mm (equivalent) f/1.8-2.8 zoom lens. Using high-tech wizardry, the Canon engineers managed to match Sony's maximum aperture throughout the range, and yet squeeze in a wider focal range than the Sony's 24-70mm without a size increase. Canon didn't explain how they pulled it off, but I shall explain later why the additional reach is invaluable.
Sony RX100III's technological coup d'état though is the inclusion of a built-in LCD viewfinder. Where you'd expect a tiny flash to pop up, a glorious 1.44MP OLED electronic viewfinder rises up to offer a new way of seeing the world. In contrast, there is no viewfinder (integrated or otherwise) for the Canon. So if you must have a viewfinder, the Sony will be your choice. Both cameras feature built-in flash, but neither comes with hot shoe.
Both rivals feature control dial around the lens for quick change of settings, but while Canon has click detents on the wheel to help you feel the changes with tactile feedback, Sony opted to do away with click detents for a totally smooth control wheel so there are no audible clicks during video recording. Once again, each engineering team has chosen different paths with very different focus and results – the Canon is perfect for stills, while the Sony excels in video.
Design and feel
Out of the box, the PowerShot G7 X feels compact yet substantial. It fits into the palm well, with the controls falling in place nicely. The newcomer feels more like a supersized version of the PowerShot S120 in terms of design, rather than G-series family. The body is covered in smooth splattered black paint, which looks great but is really a recipe for disaster (the Sony is no better). It is fortunate that they included a thumb rest at the back, which helps give a better grip on the camera. Canon should really consider an optional rubberized grip like they did for the PowerShot G1X II.
The buttons at the back may seem to be clustered too closely together, but in practice it is easy to access each button accurately without depressing another button accidentally. The control ring has just the right resistance, with slight detents for tactile feedback. The 3″ touchscreen LCD flips up 180 degrees in one orientation for creative low-angle shooting… and selfies. It doesn't flip downwards, so the only way to shoot from high angle is to hold the camera upside down. In this respect, the Sony RX100 Mk III has the better-designed hinge mechanism to do everything the Canon can, and more.
It is impossible to miss the sexy set of dials sitting to the right of the shutter release button. Nicely knurled for easy gripping, the stacked dials give you instant access to the shooting modes and exposure compensation. A dedicated exposure compensation dial is a rare commodity on many digital cameras, and I'm excited to see this old-school approach on the Canon PowerShot G7 X for on-the-fly exposure adjustments.
Peering into the box, it's a relief to see a battery charger inside. It sounds like a trifling thing to be excited about, but as the owner of a RX100 II I'm frustrated with Sony for not providing a proper charger (it's an optional accessory). Using the camera to charge batteries means I will not able to charge additional batteries while shooting. Seeing the Canon battery charger in the box makes me a happy camper.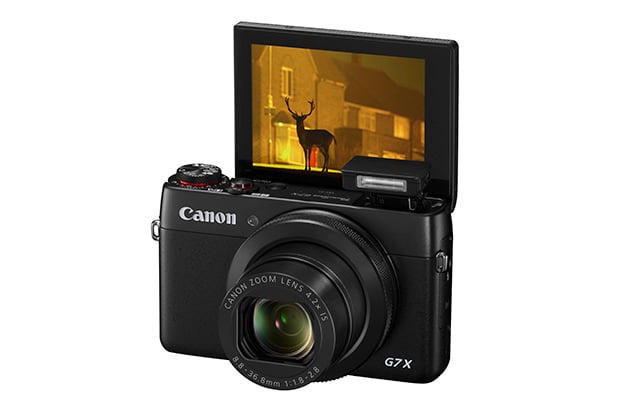 While it is great to see battery charger being included, the reason may not be such good news. The small Canon NB-13L lithium-ion battery has a CIPA rating of 210 shots, which is pretty dismal by any standard. Which means that enthusiastic users will very likely need to buy additional batteries for extended periods of shooting, in which having a dedicated charger will be more convenient.
At the camera base, Canon fitted WiFi and Near Field Communications (NFC) contacts for pairing up with a NFC equipped smartphone. The PowerShot G7 X has its tripod mount positioned next to the battery/card compartment, which makes it troublesome to replace the SD card or battery when it's mounted on a tripod.
How does it perform in the field?
The Canon PowerShot G7 X has a difficult act to follow, given the stellar reputation of the Sony RX100 Mk III. If they are powered by the same sensor, can the Canon pull ahead of its tough Sony rival through a superior lens and better image processing?
Shooting with the Canon G7 X immediately highlights the advantage of the additional reach of the lens. With an additional 30mm on tap at the telephoto end, the Canon powers through 100mm where the Sony Zeiss tops out at 70mm. Looking through the EXIF data, I found that nearly 20% of my photographs with the G7 X were taken at the 70-100mm focal length, something which would have been impossible to achieve with the Sony RX100III.
None of the G7 X images in this review have been cropped, which goes to show how well the focal range matches my shooting style. Your mileage will vary of course, but having additional focal length while maintaining the same size and maximum aperture range is a no-brainer.
But how does the Canon lens stack up against the Zeiss? Unfortunately I do not have a RX100 Mk III to do a side-by-side shootout. But on its own merits, I will say the Canon is very impressive on many counts, although it is not perfect by any measure. Wide open, the Canon lens betrays a touch a softness and veiling throughout the focal length, which doesn't disappear entirely until f/3.5-4, by then it delivers very impressive performance in terms of sharpness and contrast.
And despite its very impressive maximum aperture of f/1.8-2.8, you should not expect shallow depth of field from the Canon (or Sony for that matter). The 1" sensor size is significantly larger than many consumer compacts, but it is still tiny compared to APS-C or full-frame cameras. The combination of a small sensor size, and the fact that the macro mode only works at wide focal lengths means that shallow depth of field with a 1" sensor is still a pipe dream.
There is very slight chromatic fringing around the highlights in some instances, but it is not enough to be even visible in most cases unless you pixel peep. The PowerShot G7 X copes very well with bright lighting in general, but the lens can be forced to flare with a strong hot spot in the scene under extreme conditions. What really impresses me about the lens though is the distortion control. Browsing through the images, it was difficult to spot any strong fisheye or barrel distortion. Although it was likely to be the result of clever software correction, the Canon G7 X nevertheless turned in very impressive results in this area.
The PowerShot G7 X's image stabilizer delivered very credible performance even in extremely slow shutter speeds. I attempted one-second exposures hand-held without any support (nope… not even resting my arms on any railings), and there were images that turned out to be usable. I was pretty blown-away looking at the results, and the superb stabilization will definitely encourage you to be even more experimental in low-light conditions.
The tilting touch-screen provides very good visibility in the field, providing easy viewing of the image even in bright daylight when set to average brightness. I had more fun with the tilting angle and touch screen than I imagined, shooting from various angles and having fun with odd compositions. Unfortunately the screen does not tilt the other way, forcing me to hold the camera upside down when shooting from high angle. It is a slight inconvenience, but you should really be cautious when holding the camera in this manner, as there is virtually no grip in that position.
As a Canon EOS user, I know that I can usually trust the white balance to be fairly accurate in most conditions, especially outdoors. But this is not the case with the G7 X, which struggled with white balance on several occasions. Under warm morning light, red turned out as magenta due to the wonky white balance, and skin tones took on a red cast with a green background. Given this was a production camera and not a beta set, I was really surprised at this slip up for a premium compact from Canon. The problem can be fixed in post-production if you are shooting in RAW format, but hopefully Canon can release firmware updates to address this issue.
I love street photography, and compact cameras are usually not the right tools for the job because of their sluggish responses. The Canon G7 X surprised me with its quick response and intuitive controls. Armed with a 31-point contrast-detection AF system, the G7 X is not as fast as the quickest M4/3 cameras, but it is the combination of the lack of shutter lag and great interface that really attracted me to the G7 X.
The touch screen allows me to focus on any part of the image with a mere touch, and the shutter trips almost instantaneously at the press of the button. Changing exposure mode and exposure compensation is so quick and clear – you never need to think twice of which button to press to do so. Need to change aperture or shutter speed? Just twist the lens control ring! There is so much direct control with the PowerShot G7 X seldom seen on a compact camera, it is just a massive tactile joy to shoot with it!
As the light falls and you start cranking up the ISO, the PowerShot G7 X continues to turn in pretty decent images. Images shot at ISO 2000 retain fine details, even though you can see noise reduction being applied at close inspection. Dive deeper into the dark side, and fine details such as hair begins to unravel at ISO 3000. For a 1" sensor size, the noise performance is not too shabby, but it should not be compared to the much larger APS-C sensors.
When the battery finally gave up the ghost, I calculated the images captured on a single charge. Because I recorded each image in both RAW and JPG format, I ended up with 366 images and 732 files, which is 175% of the 210-shots rating of the battery. I didn't use the Eco mode, which would have prolonged battery life even further, because it just didn't make sense. The Eco mode shut down the screen for better battery life, but it turned the screen back on at the slightest camera movement, making it useless for normal shooting.
Instead, I shot like most photographers would — taking a shot (or a series of images) and turning the camera off, before starting it up again at the next photo opportunity. Is 366 images a reasonable amount to expect from the battery? I'd say yes considering how small the battery is, but I'd really love to have a bigger battery with higher capacity. If you're taking the PowerShot G7 X on a trip, be sure to have a couple more spare batteries in your bag.
Conclusion
So did Canon come up with a winner here? The PowerShot G7 X punches above its own weight by combining a 1" sensor with an amazingly bright lens, and the incredible tactile experience of a click-sensitive lens control wheel, titling touch screen, exposure and compensation dials plus the short shutter lag make it one of the best compact cameras I've ever used. It is truly control at your fingertips!
But the Canon G7 X doesn't exist in a vacuum. In fact, it owed its existence to the Sony RX100 series, to which it was heavily benchmarked against during its creation. Against its established rival, the newcomer packs a longer focal length in the hope of knocking off the incumbent off its throne, but the reigning king holds its trump card of integrated LCD viewfinder, excellent video quality and better battery life.
For photographers, there are no losers – you are assured of class-leading images no matter which camp you support. If you are keen in videos, you'd probably be happier with the Sony RX100 III. Personally I prefer the longer reach of the Canon PowerShot G7 X lens, as well as its incredible human-machine interface for such a compact camera. That would be the camera I'd buy for myself – along with a bunch of spare batteries.
High Resolution Sample Photos
For more sample photos from the Canon PowerShot G7 X, check out my Flickr gallery.
---
About the author: Nelson Tan is a photographer based in Singapore. You can contact him through his Facebook, blog, and his photo gallery.