Canon Offers L Lens Alternatives with New EF 400mm f/4, EF 24-105mm and EF-S 24mm f/2.8
We interrupt the flow of Photokina camera announcements with a bit of a glass breather courtesy of Canon. In addition to the long-awaited 7D Mark II and the impressive G7 X, Canon also let three lenses out of the bag today, two of which are placed as cheaper alternatives to popular L lenses.
Canon EF 400mm f/4 DO IS II USM
First up is the EF 400mm f/4 DO IS II USM. Marketed as a "portable super telephoto lens," the goal with this 400mm was keeping things as light as possible. Compared to the 400mm f/2.8L II, the second version of the 400mm f/4 weighs only half as much and claims up to four additional stops of images stabilization thanks to Canon's OIS.
The lens also features, "newly developed gapless dual-layered diffractive optical (DO) elements that help improve optical performance while maintaining virtually the same size and weight as its predecessor," as well as other optical improvements to set it apart from the older 400mm f/4.
You'll be able to pick up the EF 400mm f/4 in November for $6,900, and can already pre-order the portable super telephoto lens at B&H Photo by clicking here.
Canon EF 24-105mm f/3.5-5.6 IS STM
Another L-lens alternative for those of us with pockets that don't run quite as deep, the 24-105mm f/3.5-5.6 IS STM is the step down from the 24-105mm f/4L.
It's the first EF zoom lens for full-frame cameras to include the quiet lead screw-type stepping motor (STM) and it, too, offers up to four stops of image stabilization thanks to Canon's OIS technology. Canon also boasts of an improved AF algorithm and lightweight inner focusing system that should make this a great lens for zeroing in on your subjects quickly and accurately.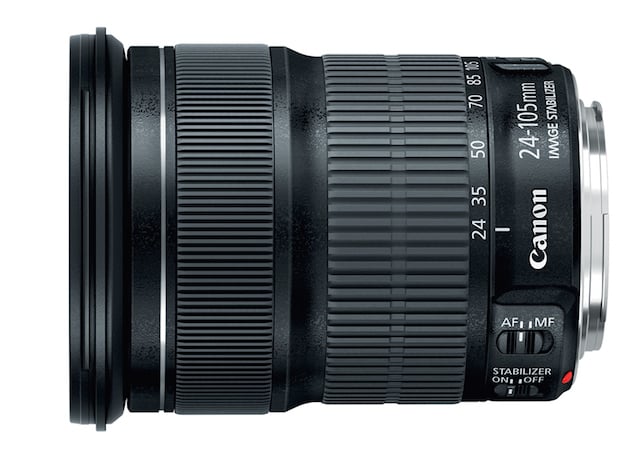 The 24-105mm f/3.5-5.6 will arrive a little bit later than the 400mm, hitting shelves in December for $600. Pre-order is already available here.
Canon EF-S 24mm f/2.8 STM Pancake Lens
Last but not least, we have "the slimmest and lightest Canon EF-S lens ever produced": the Canon EF-S 24mm f/2.8 STM.
This compact, lightweight, affordable wide-angle lens features an STM motor for silent focusing and a 7-blade aperture controlled by a micro-stepping driver control for quiet operation.
This lens will hit shelves in November for a very reasonable $150, and can already be pre-ordered by clicking here.