Photographer's Handmade Promo Mailer is Beyond Impressive
Photographer Clint Davis doesn't do simple. Featured on PetaPixel almost four years ago when he created an unforgettable promotional mailer, his second attempt at the same is even more impressive.
The idea for his new mailer came from his original "Give Me a Shot" campaign, but he aspired for something more refined this time around. With his work and client-base having dramatically matured over the past four years, Davis wanted to make sure his new marketing strategy reflected his higher-end clientele. So, he got to work.
Here are the various components that went into each mailer:
In a nod to his original campaign, this mailer also capitalizes on the "shot" entendre, but in a completely different light. Rather than asking his client base to give him a shot, he's now showing them what it is he's shot by drilling 'bullet holes' into the portfolio prints.
The clever wordplay doesn't stop there though. Davis also enlisted the help of painter Christina Ramsey to paint no less than 50 empty ammunition shells to look like the iconic Canon 70–200mm.
Below are a collection of BTS images of the mailer that Davis was kind enough to share with us: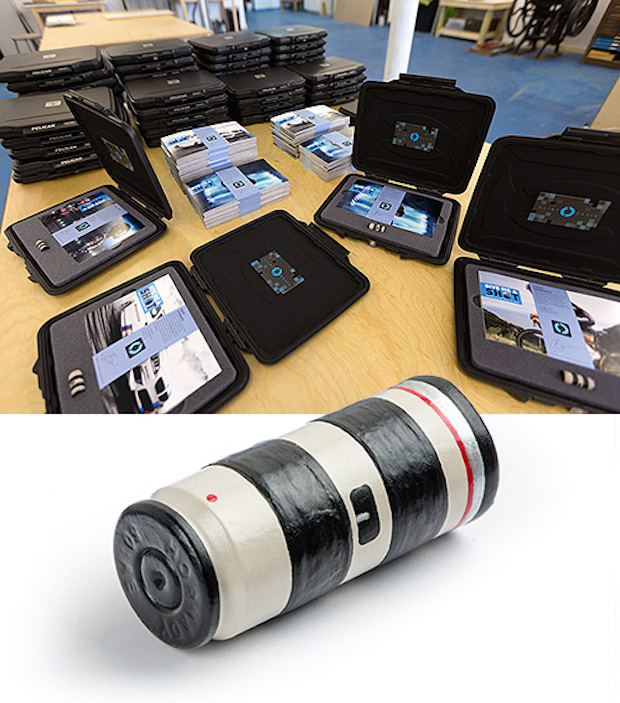 The amount of time, thought and meticulous detail that went into these mailers is nothing short of astounding. For a more thorough explanation behind every detail — and there are a lot of them — head on over to his blog post after you check out the photos and video in this post.
And if this mailer makes you want to hire him, you can find out more about the photographer on his website where you'll also find links to all his social networks.
---
Image credits: Photographs by Clint Davis and used with permission.