Canon Report Finds 18% of People Bought Counterfeit Gear Unwittingly in 2013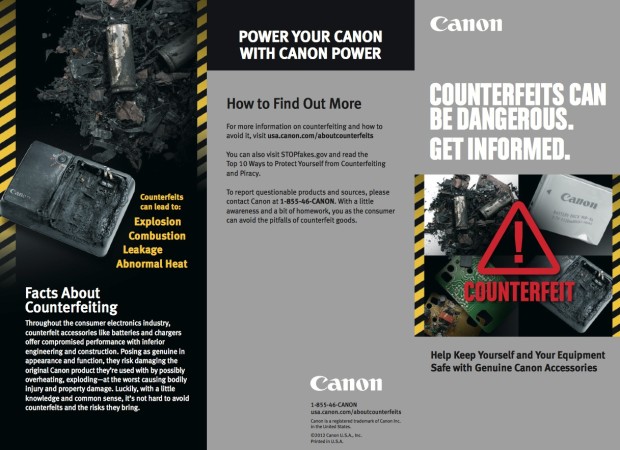 It's no surprise that a market as vast and broad as photography is going to have problems with counterfeit gear, but the problem might be more prevalent than you think. According to a recent study commission by Canon, it's estimated that some 18% of consumers have purchased counterfeit goods without knowing it, despite the fact that companies like Canon often try to educate customers about this sort of thing.
Surveying 1,069 consumers who purchased electronics in 2013, Canon found out that 30% of them bought counterfeited goods, with Canon specifically noting the following statistics in their accompanying press release:
In 2013, 12 percent of the U.S. consumers surveyed knowingly bought fake consumer electronics, while 18 percent bought them unknowingly.
40 percent of U.S. consumers surveyed were unaware that counterfeit consumer electronics may harm them.
45 percent believed that counterfeit consumer electronics do the job just as well as genuine consumer electronics.
97 percent wanted more information so they can identify counterfeits.
Millennials surveyed were five times more likely than the Baby Boomers surveyed to purchase fake goods.
While the majority of millennials (72 percent) surveyed consider themselves very knowledgeable in identifying a counterfeit consumer electronics product, about one in four continues to unknowingly buy one.
Canon hasn't shared the full report yet, so it's not clear how they specifically came up with that 18%. PopPhoto speculates that maybe Canon took into account the number of overall counterfeit sales and subtracted the number of consumers who knowingly purchased this third-party gear. However, that is yet to be confirmed.
What we can take away from these stats (obscure as the numbers may be) is that you should ALWAYS purchase from reliable dealers such as B&H and Amazon when you're buying gear online. Even then, there's a slight chance you may be receiving counterfeit goods, but the risk is significantly lower, and it'll be much easier to settle the situation.
(via PopPhoto)