Sony's New A7s is a 4K-Capable Mirrorless Full-Frame with Insane ISO Sensitivity
The presentation is over — although you can still watch the replay for yourself here — and as rumored, Sony has added one more full-frame mirrorless camera to its Alpha 7 arsenal: The A7s.
We asked you when rumors first broke a couple of days ago what you thought the S stood for, and after a cursory look it doesn't seem anybody got it right. According to Sony, S stands for Sensitivity, as in ISO Sensitivity. And it's that, along with the camera's ability to shoot 4K (sort of, more on that in a sec), that Sony is focusing on with the A7s.
First, the video stuff — after all, the camera was announced at NAB. The A7s can shoot 4K video, yes… but there is a big "but" attached to the end of that statement. The camera can't shoot 4K internally. It can record 4K only when you have an external recorder plugged in via HDMI.
More exciting for photographers is the fact that the camera uses a sensor that only boasts 12.2 megapixels — half the pixels of the A7 and one-third of the pixels of the A7r. It mights seem strange that we're lauding a camera for its LACK of megapixels, but it's a gutsy move by Sony that pays dividends in the low-light department.
As mentioned above, the 'S' stands for Sensitivity, and that's a direct effect of the larger pixels. The A7s blows the competition out of the water with a stills ISO range that is expandable to 50-409,600, and the larger pixels are also supposed to provide better dynamic range, gradation and color fidelity.
We'll reserve judgement until we actually get to see some samples or try the camera for ourselves, but the D4s might have some competition at the top of its DxO Mark ISO totem pole.
Here's a closer look at the A7s: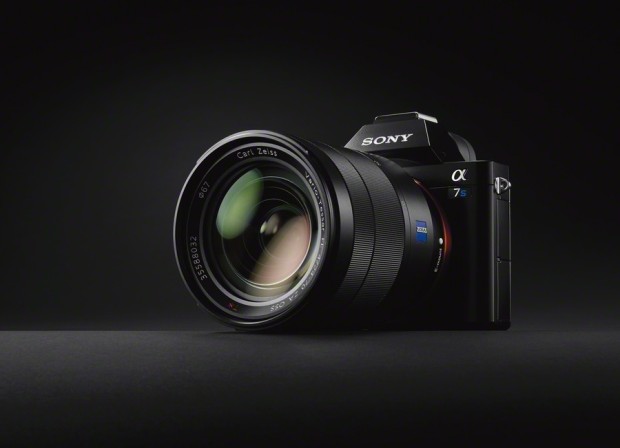 Thus far, Sony is keeping pricing a secret, but expect the A7s to start shipping sometime this summer. For more info, head over to Sony's press room by clicking here, or watch the presentation here.