Sony Unveils the a7 and a7R, E-Mount ILCs that Pack a Full-Frame Punch
After all of the anticipation, rumors and leaks we sincerely hope the announcement still has you excited, because Sony has finally made the long-awaited a7 and a7R official. That's right, the cameras once known only as the "NEX Full-Frame" have finally arrived, with full specs, press photos and a lens and accessory lineup to prove it.
Truth be told, the leaked specs and photos were 100% accurate, so you're not in for any surprises here. Still, that doesn't mean these cameras aren't worth salivating over. As expected, the a7 will be the more affordable of the two, with the a7R taking up the the mirrorless full-frame flagship title for Sony.
Sony Alpha a7
Hardware-wise, there aren't actually that many differences between the a7 and its big brother. Inside you'll find a 24.3-megapixel full-frame CMOS sensor with an anti-aliasing filter, 117-point phase detection AF/25-point standard AF, 5fps continuous shooting, ISO range from 100-25600, 2.4-million-dot OLED EVF, tiltable 3.0-inch 1,229K-dot LCD, and 1/8000 max shutter speed.
There's also built-in WiFi and NFC, an advanced 1,200-zone evaluative metering system, a new BIONZ X image processor, 14-bit RAW, focus peaking and the ability to capture Full HD 1080p uncompressed footage at 60 and 24fps… all packed into a weather sealed body.
On the body, you'll find nine different customizable buttons built into the camera with 46 assignable functions that can be adjusted based on shooting preference, fully customizable front and back dials, a rear control wheel and an exposure compensation dial.
Here's a peek at what this puppy looks like: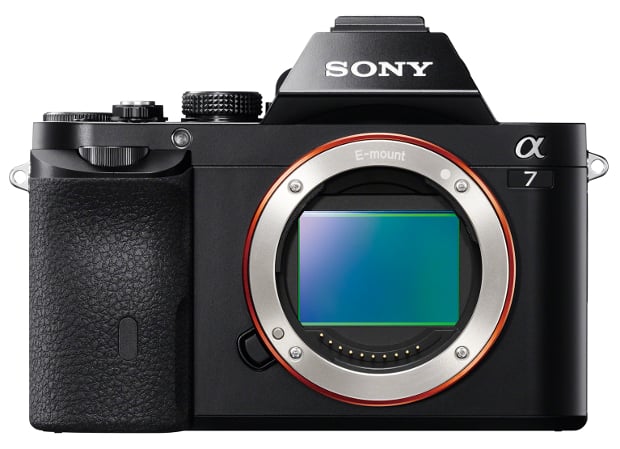 The a7 will be the cheaper of the two cameras, selling for $1,700 for the body only and $2,000 in a kit with a 28-70mm f/3.5-5.6 lens. It should make landfall in stores starting in December.
Sony Alpha a7R
The a7R is the big boy of the bunch, but the majority of its spec sheet is actually identical to the a7 we just described above. In lieu of listing off everything again, we'll just tell you what's different about it.
Instead of a 24.3-megapixel sensor the big brother sports a much higher resolution 36.4-megapixel sensor without an anti-aliasing filter. That, of course, means sharper images at the price of potential moire issues.
The only other differences we noticed were a slightly sturdier build, the lack of phase detection AF and slightly slower continuous shooting that only clocks in at 4fps. For all the rest, just read the a7 specs above. Sony is also calling the a7R (not the a7) "the world's smallest and lightest full-frame interchangeable lens camera."
You can take a gander at what the a7R looks like below:
This one will ship in December as well, but you won't be getting it for the same price. There is no kit available with the a7R, and so interested parties will have to drop $2,300 on the body only and pick up some glass on their own.
And speaking of glass, Sony also announced a few new lenses built, as you might expect, with these two full-frame shooters in mind. We have the new Sony Vario-Tessar T* 24-70mm f/4 ZA OSS Lens that will retail for $1,200 (available in January), the Sony FE 35mm f/2.8 ZA Lens that will go for $800 (available in December) and the Sony FE 55mm f/1.8 ZA Lens that will go for $1,000 (available in January). All are weather sealed.
Other accessories that launched alongside the new cameras include an A-Mount to E-Mount adapter for $200, an A-Mount to E-Mount adapter with translucent mirror technology for $350 and a battery grip that will fit both cameras for $300.
These will ship at the same time as the cameras do in December.
For more information on both cameras, check out the official press release at this link. And if you'd like to pre-order any of the goodies mentioned above, just click on the links provided to head over to the B&H Photo pages and drop some cash.