Photographers Rejoice: Adobe Unveils a $10/Month Photoshop CC and LR Plan
When Adobe announced its shift to a subscription-only model earlier this year, there was an outcry from photographers who balked at the idea of paying over $20 a month to use Photoshop CC. There were soon murmurings that the company was brewing a special subscription package geared specifically toward photographers.
Today, that package became a reality. Adobe has announced a new Photoshop Photography Program, a more affordable subscription plan that gives photographers access to the software they can't (or don't want to) live without.

The new plan was announced today at the Photoshop World conference in Las Vegas. For $9.99 a month, you'll be given access to Photoshop CC, Lightroom 5, Behance, and 20 gigabytes of cloud storage in the Adobe Creative Cloud.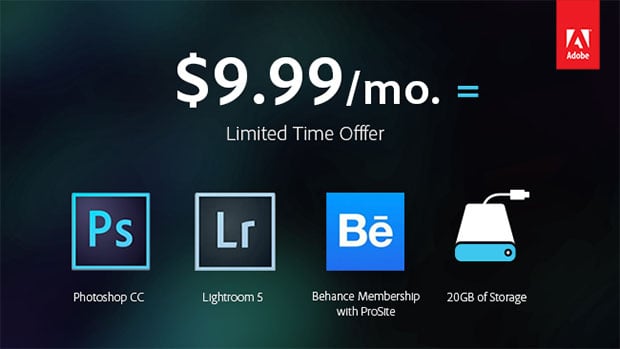 The offer, which isn't simply an "introductory offer," will be available to anyone who currently owns Photoshop CS3 or higher. You'll be able to sign up for it through December 31st, 2013 once Lightroom 5.2 is announced in "a couple weeks."
If you're already paying $20 a month to subscribe to Photoshop CC, you'll be automatically switched to the new cheaper rate if your account shows that you own a qualifying previous version of the software.