Reflections: Portraits of the Elderly Seeing Their Younger Selves
When my grandmother was suddenly stricken by a massive stroke, my family had to make the heartbreaking decision to let her go. The doctor told us that even if she were to survive it, she wouldn't be the person we knew. I remember thinking at that moment, 'if you could only know what kind of woman she is!' We all knew that it wouldn't be fair to her to bring her back in a way that wouldn't allow her to live her life her way.

I spent the next four or so days staying in her hospital room. I listened to her breathe and even snore at times, as she went deeper and deeper into the blackness. I held her hand through the night so that if anything had happened while I was asleep, I'd feel her and wake up.
Every time a nurse would come in to turn my grandmother over to the other side, I felt this overwhelming need to tell them all about her. To make sure that they understood that the frail little old lady in the bed was a spitfire of a woman.
I'd wish that I had my photo albums to pull out and show them all the photographic evidence of her alive and smiling and dancing and being Audrey. To show her living in some of the most amazing places in the world. To show the crazy things she had done and seen in life.
It was so important to me that everyone that came into the room, that didn't know her, understand that Audrey Hand was a force in this world, and more importantly, in my world. I didn't want her to just be another 80-year-old woman slowly dying under a pink blanket.
When she did pass on, which happened after my family finally convinced me to leave and go back to the hotel for a shower and change of clothes, I remember looking into the other rooms that lined the hallway of the wing as I walked back to her room.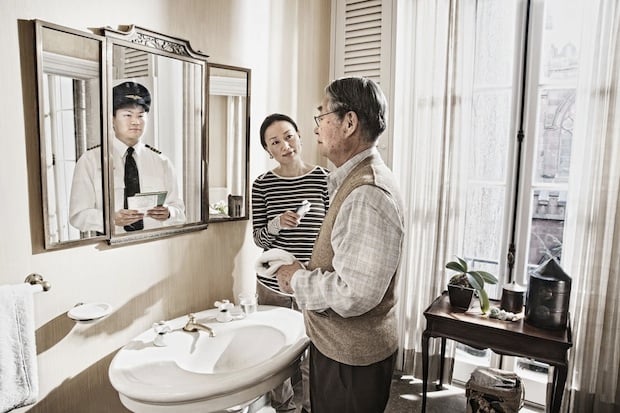 Every bed was filled with an old person. I wondered what their stories were, who were they in their lifetimes? I had wished that their loved ones had brought in photo albums chronicling their lives so that we could see more than the tiny bodies in the beds.
I've always been fascinated with age and aging, with everything in between the beginning and end. With my newborn photography, I wonder what kind of lives these little clean slates will have as they grow up. When I see older people, I wonder what they've seen, and what they were like when they were younger. What were their greatest and worst experiences in life?
As photographers, we have this wonderful opportunity of being able to stop time and preserve it. To capture a moment that we can then hold on to forever, no matter what the outcome may be down the line.
When I recently saw a photo series entitled Reflections, I was struck by how the images conveyed that sense nostalgia for a time that some might consider the halcyon days of their life. I reached out to the series creator, Dallas-based photographer Tom Hussey, and asked him about the origins and inspiration for this series.
Here's what he shared:
I don't care how old you are, when you look into a mirror, you think of yourself as younger than you are. You have a memory of a time in your life that was pivotal — be it when you got your drivers license, your senior year in High School, or maybe the year you married.

The "Reflections" advertising campaign was based on a portfolio shoot I made to illustrate this thought. The idea hit me as I was talking with a WWII veteran named Gardner about his life experiences. He was about to celebrate his 80th birthday.

He commented that he didn't understand how he could be 80 years old as he felt he was still a young man. He just didn't feel it was possible he could be 80 years old. I started thinking about a milestone age approaching for me, as I was nearing 40. I realized that everyone thinks of themselves at a certain age or time in life.
Based on that conversation, I built a bathroom set and photographed Gardner staring into his bathroom mirror and seeing himself as a 25-year-old young man. I used the resulting image of Gardner as my Workbook ad that year.

Some years later, an ad agency in New York City used my Workbook ad as a concept. Based on that earlier portfolio image, I was awarded a job for an Alzheimer's drug called the Exelon Patch made by Novartis. The Exelon Patch helps patients maintain long-term memories during the early stages of that horrific disease.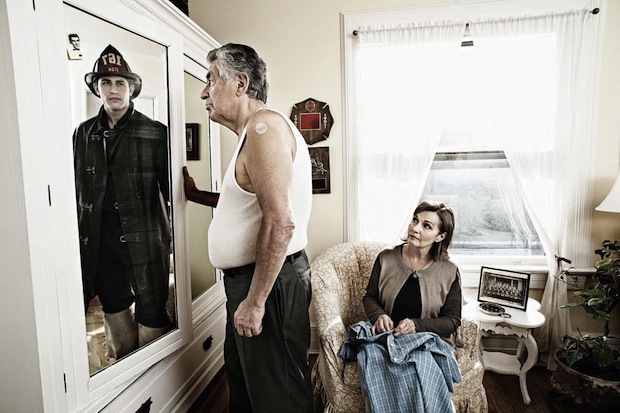 I was fortunate to be included in a lot of the early concept stages for the campaign. I knew immediately location scouting and casting were going to be very important to evoke the emotions associated with the disease. The campaign has been extremely successful for the promotion of the brand and people universally responded to the images.
After we shot the campaign, the images went into testing and legal review. They were so well received that the images, all 10 of them, were printed full-page in the brochures and other collateral. The whole project was a great experience — working with great people at the ad agency, the client, and with a great crew.
To see more of Tom's work and his other photo series, visit his website.
---
Image credits: Photographs by Tom Hussey and used with permission.