Olympus PEN E-P5 Official: Retro Styling and Solid Specs in a Flagship Camera
After weeks of rumors and leaks, Olympus' new PEN E-P5 finally became official today. It's the company's new flagship Micro Four Thirds PEN mirrorless camera, and features both retro styling on the outside and powerful specs on the inside.


As all the leaks revealed already, the E-P5 is modeled after the old Olympus PEN F SLR from decades ago–50 years to be exact. Olympus is launching this latest PEN camera on the 50th anniversary of its legendary ancestor.

Like the retro OM-D EM-5 announced a year ago, the E-M5 continues the theme of stuffing high-end guts into a beautiful and portable exterior (an all-metal casing).
At the core of the camera are the same technologies found in the E-M5: the same 16-megapixel CMOS sensor (ISO range is 100-25600), autofocus system, 5-axis image stabilization system, and more.
The max shutter speed of 1/8000th of a second is a world's first for compact system cameras. Olympus says the mechanical shutter's speed will allow photographers to capture fast-moving subjects (e.g. flying insects) or to shoot with large apertures in bright environments (i.e. for shallow depth of field shots even during the day).
The camera is also speedy in startup time (0.5 seconds), has 9fps continuous shooting, and boasts a shot-to-shot time of just 0.044 seconds.
To aid in manual focusing, the E-P5 features a new Focus Peaking system that helps you easily eyeball the focus plane of any scene, using white or black pixels as indicators for what's in focus.
The interface of the camera features a new Dial Control system that offers some choice. A lever on the back of the camera determines what the dials on the front and back do. In the first position, the front and back dials control aperture and exposure time (respectively), and in the second case, they control ISO and white balance (respectively). You can also assign a number of other functions to further tweak the behavior to your liking.
On the back of the camera is a 3-inch 1.04-million-dot tilting touchscreen that can be faced upwards at 80 degrees or downwards at 50 degrees.
WiFi is making its first appearance in an Olympus camera with the E-P5. The connectivity can be used with Olympus smartphone app, called Olympus Image Share 2.0, to pair your camera with your smartphone. Once paired, you can use your phone as an external display, remote, or GPS unit for your camera.
Other features include a built-in collage maker called Photo Story, 1080/30p HD video recording, a time-lapse maker, and 12 Art Filters.
Here's Olympus' official video introduction to the E-P5:
The Olympus PEN E-P5 will be available starting in May 2013 in black, silver, or white.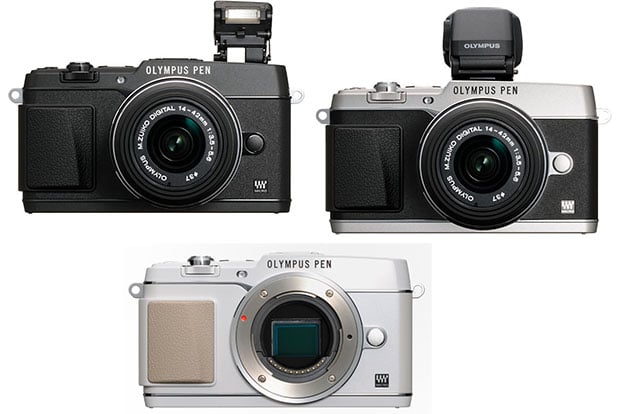 The price tag will be $1000 for the body only, or $1450 if you'd like to buy the camera with a 17mm f/1.8 kit lens and a VF-4 electronic viewfinder. You can already begin preordering the camera through online retailers such as B&H Photo Video.