Helmut Turns Your Smartphone Into the World's Fastest Film Scanner
Photographer and software developer Kostas Rutkauskas has launched a new mobile app called Helmut. Designed for Android, it's a film scanning app that lets you digitize your old film strips quickly and on the cheap.

Rutkauskas is the same guy who developed
the Exif4Film app
that we featured last year. We also first reported on Helmut when it was
awarded first prize at Photo Hack Day Berlin 2012
, but not too much was known about the app at the time.
Rutkauskas tells us that he wanted to create an system that would only require a smartphone and a simple lightbox, and one that would work in the same way as traditional film scanning applications that are designed for computers (e.g. EpsonScan, VueScan, Silverfast, FlexColor).
That's what Helmut is. It's a simple app that lets you scan, crop, and then edit the scanned photos with basic tools (e.g. brightness/contrast, levels, color balance, hue/saturation, unsharp mask).
As evidenced by its hack contest win, Helmut's has performed very well in initial tests. "The initial results on higher-end phones are great," Rutkauskas says.
To use Helmut, you place your film on a surface that illuminates the film evenly from below (e.g. a phone/laptop/tablet/computer screen, a window with the sky in the background, a professional or DIY lightbox). You should be able to get results as long as the film is illuminated evenly.
Next, you launch the Helmut app, frame the film inside the camera, and snap a shot.
You then crop the "scan" and tweak it to the look you'd like. The resulting photograph can then be shared through services such as Dropbox, Facebook, and Flickr.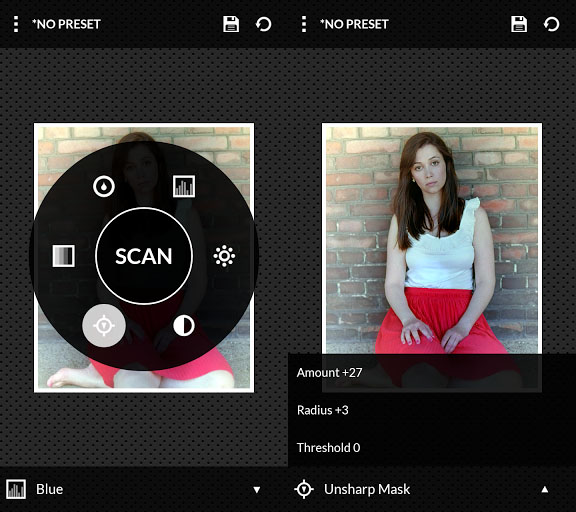 Rutkauskas and his team are now working with industrial designers to create an open-source lightbox that's designed to be used with Helmut — one that you can download from a site and make yourself or through a 3D printing service.
If you'd like to give Helmut a shot, it's now available as a free download over in the Google Play store.