RhinoCam Turns Your Sony NEX Into a Digital Medium Format Back
Fotodiox has announced a new mount system called the RhinoCam that turns a Sony NEX mirrorless camera into a digital back for 645 medium format photography. The kit allows NEX owners to shoot with classic medium format camera lenses to capture 140+ megapixel photos.

Photos resulting from the RhinoCam are equivalent to those captured with a sensor three times larger than a 35mm full frame sensor. This could be useful for photographers in certain fields (e.g. landscape, commercial, architecture) who would like ultra-high-res photos for a fraction of traditional costs.
Here's how the system works. First, it connects a NEX camera with a Pentax 645, Mamiya 645, or Hasselblad V medium format lens.
The photographer then looks through the built in Composition Screen to preview their shot. During the capture process, the camera is moved around on a moving platform while the lens remains fixed. The RhinoCam guides the NEX to a number of fixed positions for precisely positioned exposures.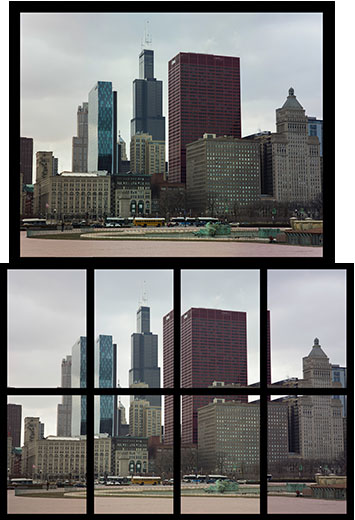 Once the photographs are captured, the photographer can use a number of photo stitching programs (e.g. Photoshop) to create the final ultra-high-res photo. Since the exposures were all created along a linear plane, flat-stitching can be used with minimal distortion in the final result.
The RhinoCam system is available now for $500 through the Fotodiox website.