Sony Unveils Two New NEX Lenses, Full Frame Glass and Camera Coming Soon?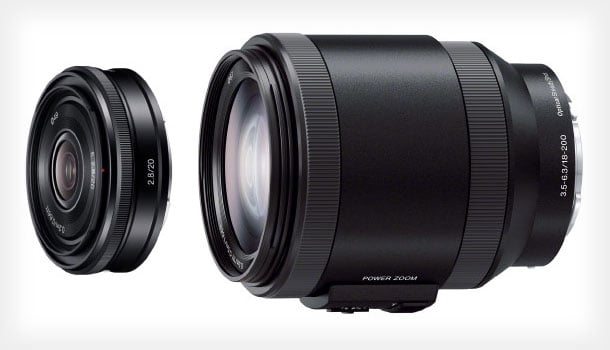 There's some new activity in the world of Sony NEX mirrorless cameras and E-mount lenses — both new product launches and rumors of soon-to-arrive gear.
Earlier this week, the company announced two new E-mount lenses: a 20mm f/2.8 pancake lens and a 18-200mm f/3.5-f/6.3 "Power Zoom" lens that has features designed for video recording.


Let's start on the wide-angle end first. The new 20mm pancake lens is designed for portability and flexibility. It's offers the equivalent of a 30mm field of view in 35mm terms, which is great for everyday, documentary-style photography. The f/2.8 is great for shooting in low-light situations.
Sony claims that the lens delivers "excellent contrast, resolution and clarity across the frame."
It's ultra-compact, measuring just 20mm (~0.79 inches) from the front of the lens to the back.
You'll be able to pick up the new 20mm for $350 come April 2013.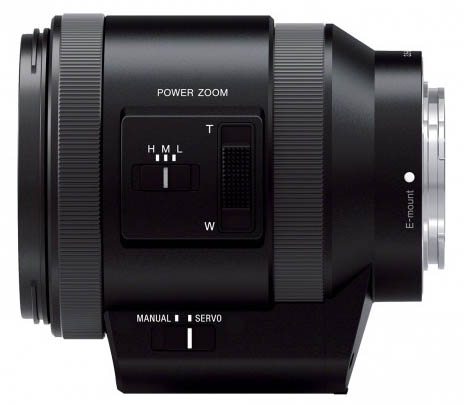 For telephoto photography, Sony will soon be launching the new 18-200mm. It's actually not a new lens, but instead the kit lens that has been packaged with Sony's new NEX-VG30 camcorder. The company is simply planning to begin selling it as a standalone lens.
The lens is geared toward videographers, offering a 11x magnification range, "whisper-quiet" power zoom, and virtually silent operation focusing and aperture operation.
The power zoom is controlled using a lever on the side of the lens, and there's a separate switch that allows the zoom to be operated at three different speeds, from slow creeps to dramatic "crash-zooms".
To stabilize photographs and footage, the lens also features Sony's Optical SteadyShot technology, which minimizes shake when shooting handheld.
Although it's designed with videographers in mind, Sony is making it clear that the 18-200mm can be used just fine by still photographers. The huge focal range allows it to be used for anything from landscapes on the wide end to wildlife and sports photography on the telephoto end.
The 18-200mm will hit store shelves in March 2013 with a price tag of $1200.
With the introduction of these two lenses, Sony now has 13 native E-mount lenses in its stable. There are, however, murmurings of exciting things to come.
sonyalpharumors is reporting with absolute certainty that there are full frame E-mount Zeiss lenses on the way. They write,
[…] Sony and Zeiss made an agreement on FF E-mount lenses. And it works like that: Zeiss will now design at least three new E-mount Full Frame prime lenses. They will have to possibility to test the lenses on a non final prototype. Zeiss has scheduled the official release of the lenses for June 2014! Sources didn't unveil me the detailed lens specs yet also because nothing is final yet. But one thing they told me…the lenses will be expensive to buy! And certainly more expensive than their current FF ZM series […] this rumor comes via top top and top sources.
Sony has already introduced the world's smallest full frame digital camera in the new RX1, but that's a fixed-lens compact camera. Sony shooters are now eagerly awaiting a full-frame mirrorless camera from Sony that features an interchangeable lens system. The camera is reportedly already being tested, and may arrive in roughly one year.
It would make sense for the new camera — whether it looks like the RX1 or like an existing NEX camera — to use the existing E-mount, so the fact that full frame E-mount lenses are on the way is a pretty big sign that we'll be seeing some drool-worthy full-frame announcements from Sony in the near future.
(via Engadget and The Digital Visual)