CamRanger: Wirelessly Control Canon and Nikon DSLRs with an iOS Device
Wireless adapters for digital cameras can be very pricey accessories, especially when you're dealing with high-end DSLRs. Manufacturers can squeeze more money out of those who pay thousands for a camera by charging hundreds for an adapter, even though a cheaper one could work just fine. What's more, the adapters are often designed specifically for certain cameras, making them useless if you change models or makes.
CamRanger is a new device that's designed to solve all those inconveniences. It's a standalone wireless adapter that connects to Canon and Nikon DSLRs using an ordinary USB cable.
Once connected, the CamRanger creates an ad-hoc Wi-Fi network that you can connect with using your iPad, iPhone, or iPod Touch. The system can likely work with other mobile operating systems as well, but currently the company only develops its free companion app for iOS devices.
Once the device and your iOS phone or tablet are connected, you're free to control your camera from a distance of up to 150 feet. There's no need for a separate computer or Internet connection.
Features include live view, image capture, settings changes, movie recording, and an intervalometer.
When using live view, which displays at 6-18fps on your screen, simply double tap the image on your screen for a magnified look at what your camera is seeing. Single tapping allows you to focus on a point in the frame and make minor focus adjustments.
One of the benefits of this is in macro photography. You can perform focus stacking without touching your camera itself. There's even an automatic focus stacking mode that makes the focus adjustments for you!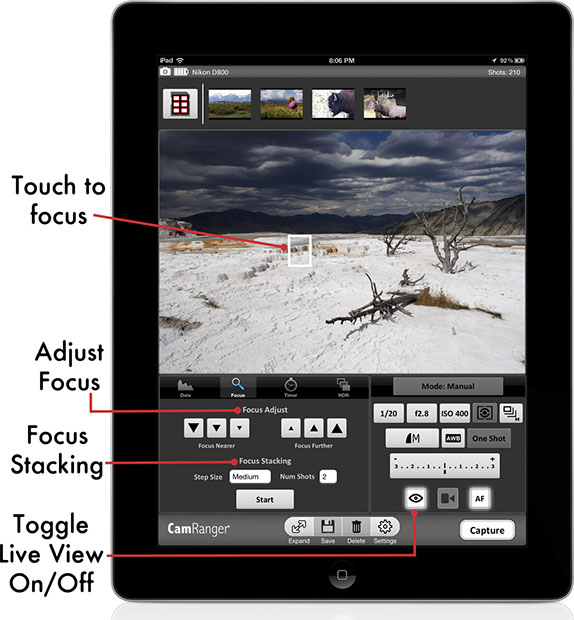 For capturing images wirelessly, thumbnails appear on the top of your screen whenever a photo is snapped. Tapping this thumbnail enlarges the image on your screen for you to review. You can program the app to have it optionally download the photos to your device, and/or to automatically display them whenever they're created (there's a "client mode" that makes your device's screen "view only" without any camera controls".
For time-lapse photographers, the CamRanger offers a built in intervalometer. Once you get it started, you can disconnect your iOS device and the shutter triggering will continue to happen. There's also advanced bracketing modes for HDR photography as well.
In terms of hardware specs, the CamRanger is powered by a rechargeable (and replaceable) battery that lasts 3-6 hours on a charge, or 11 hours if you're simply using it as an intervalometer. Charging is done through the USB cable or through an AC adapter.
Here's a video that introduces the device and shows how the app is used:
The CamRanger is extremely flexible, but it doesn't come cheap: each unit costs $300 a pop through the CamRanger online store (you can also find it on Amazon). However, do keep in mind that comparable wireless adapters for higher-end DSLRs cost the same or more, and the CamRanger is compatible with most Canon and Nikon DSLRs.