New Swivl Dock Brings Motion-Tracking to DSLRs and Tablets
About this time last year, a startup named Satarii released the original Swivl: a nifty little motion tracking dock for your smartphone. Meant for shooting video and video conferencing, the dock would follow your every move by keeping a remote tracking marker in frame.
At the time we speculated that if the Swivl was successful, Satarii would probably go on to manufacture something compatible with larger cameras. We also mentioned that, paired with a remote shutter release, the Swivl could become a useful tool for still photographers. Not that we're taking credit or anything, but it seems Satarii were listening; this week the company announced two new, beefier, tablet- and DSLR-compatible Swivls.


Both versions — the basic white ($150) and premium silver ($220) — come with a maximum load of 10lbs, bluetooth and WiFi connectivity, a USB port (instead of the original 30-pin), and the ability to rotate 360-degrees and tilt 20-degrees.
For the extra $70, the premium silver model comes equipped with the motion tracking capabilities and wireless mic that made the original Swivl such a hit, as well as a built in speaker for easier video conferencing.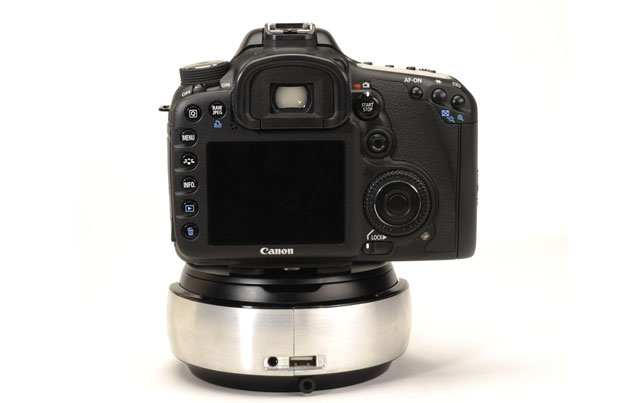 The most intriguing improvements, however, come in the form of software. Beyond releasing a few apps of its own — including one that controls your shutter and other camera settings — Satarii has opened up its platform to developers. This (hopefully) means that iOS and Android developers alike will take the Swivl and run with it, adding features and capabilities that photographers and videographers alike will drool over… fingers crossed.
For now the new Swivl is still just a Kickstarter campaign, but if you're doubting whether or not it'll reach its funding goal, don't — in two days they've already almost cut their sizable $120K goal in half. So if the Swivl sounds like a gadget your camera bag could stand to gain, head over to their Kickstarter page or the product's website and check it out for yourself.
Satarii doesn't expect to ship the new Swivl until July of 2013, but hey, at that point it'll be just in time for the next holiday season.