The SR-1 is a Photo/Video Robotic Pan-Tilt Head Designed by Nikon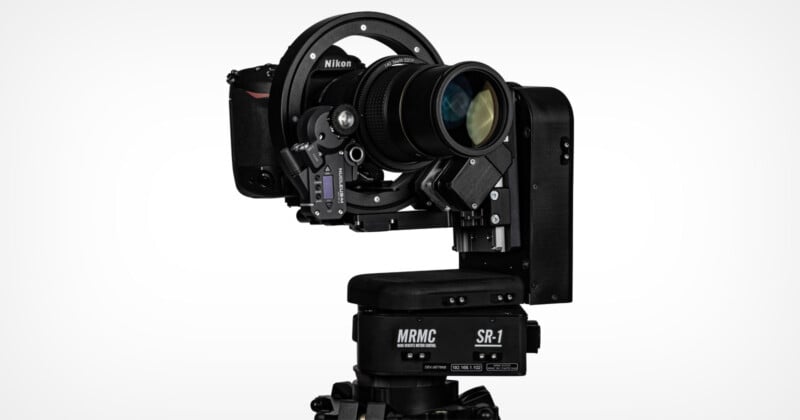 Nikon's robotics division Mark Roberts Motion Control (MRMC) has announced the SR-1 pan-tilt head, a remote system designed to help photographers and filmmakers easily capture new angles that would be "impossible" by hand.
MRMC has been working on making its robotics smaller and more usable, and the SR-1 appears to be the latest step in that endeavor. In July, the company launched the Cinebot Mini, a compact and lightweight live-action camera robot that is designed to simplify make complex motion control moves by copying hand-held actions.
The SR-1 is described as a compact (28 centimeters tall, 22 centimeters wide, and 14 centimeters deep), lightweight (it weighs 10 pounds) head that is easy to transport, setup, mount with a camera, and control. The system is compatible with a range of Nikon cameras from the Z9 professional mirrorless camera through the D5 DSLR. While MRMC is a Nikon-owned company and the system is of course optimized for Nikon cameras, the company stipulates the SR-1 is "camera and lens agnostic," so photographers and filmmakers can use it with a variety of equipment.
"Designed to be used in locations that are difficult for camera operators to access, this next-generation, remote production tool enhances the creativity of shots, helps capture new angles and achieves shots that would be 'impossible' by hand with ease," the company says.
MRMC says that the SR-1 system is capable of supporting a payload of up to four kilograms (about 8.8 pounds). The head has an axis speed of 30 degrees per second and a pan range of plus or minus 120 degrees. It can also roll with a range of plus or minus 165 degrees. The system not only controls the position of the camera, but also has the ability to control zoom or focus via a motorized gear.
The company says it has full IP control, is controllable via MHC or third-party systems, and is compatible with Polymotion Chat automated tracking software.
"The SR-1 is a powerful new tool for professional photographers and videographers," Paddy Taylor, Head of Broadcast Solutions for MRMC, says. The SR-1 is scheduled to be showcased at IBC 2023 in Amsterdam, NL.
"It is perfect for use in situations where it is difficult or dangerous for a human operator to be present, such as in hazardous environments or at great heights. The SR-1 is also a great option for capturing dynamic shots that would be difficult to achieve manually."
At the time of announcement, MRMC did not publish pricing or when it expected the SR-1 to be available.