Google Releases Snapseed for Android, iOS Version Now Free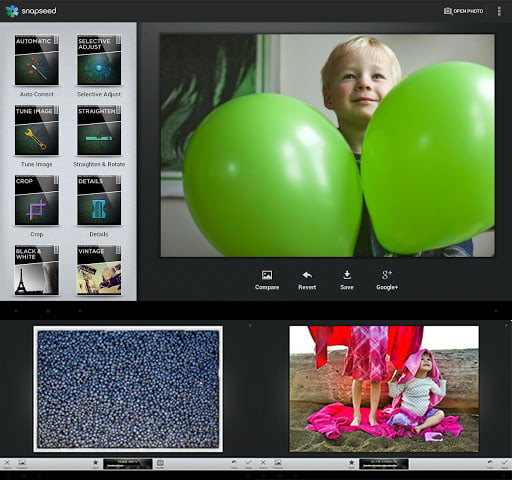 When Nik Software was acquired by Google back in September, one of the prized catches — besides Nik's impressive suite of high-end photo editing software — was Snapseed, a highly popular photo editing app for iOS. Many people suspected that Google was gearing up to fight more directly with Instagram, now the Facebook-owned 800lb gorilla in the mobile photo sharing space.
Whether or not that was the motivation, it certainly seems like the case now: Google today launched Snapseed for Android, and has also made the app free for both platforms.

The new Android app has a good amount of Google+ integration built into it. Users can share edited photographs with their Circles and Communities, and can tag their Google+ buddies in the shots.
Snapseed product manager Josh Haftel tells The Verge that the app isn't designed to target the same audience as Instagram, but instead caters to more serious photographers:
It's not like Instagram with one click filters. You're not in and out in 5 seconds. You do more customization, from color saturation to light leaks.
The Verge also reveals something that was suspected back in September: that Google is taking photography quite seriously with its Google+ product:
A major impetus for creating this new product, as Google VP Brad Horowitz explained, was the community that had formed on Google+ around photography. The company threw a lavish conference for these shutterbugs, and is now giving them a powerful photo editing app with Google+ baked in, free of charge, of course. While Googlers wouldn't discuss the product roadmap on the record, sources say that more of the high-end photo editing tools created by NiKSoftware may find their way into Google+ in the future.
Many photographers would undoubtedly be pleased if Google turned some of Nik's popular programs into free online features. Imagine having Nik's powerful noise reduction and sharpening tools available through your browser.
$5 was the price you previously had to pay to download the app through the iTunes App Store. The new price of $0 is sure to attract many people who wanted to try out the software without having to buy the full version to do so.
Given how large the Google+ community has grown since it was launched in June 2011, Snapseed seems like it will be an app we'll be talking about much more in the days to come.
You can download it and try it out for yourself from the Google Play Store and from the iTunes App Store.