Google Snaps Up Snapseed, Now Ready to Battle Facebook's Instagram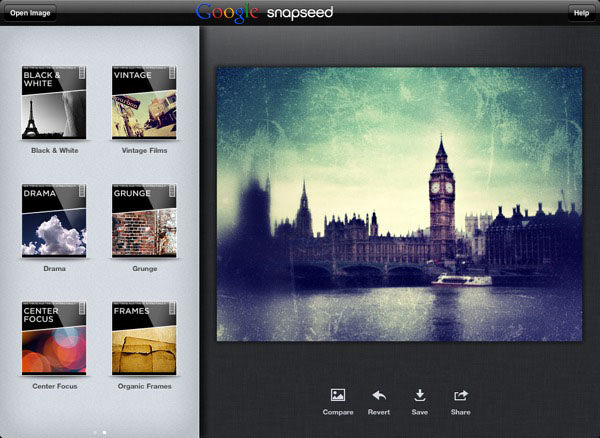 Nik Software announced today that it has been acquired by Google. The company is the maker of Snapseed, one of the most popular photo editing apps in the iTunes App Store and a competitor to Instagram.

Here's what Nik Software said in the blog post published today:
We are pleased to announce that Google has acquired Nik Software. For nearly 17 years, we've been guided by our motto, "photography first", as we worked to build world class digital image editing tools. We've always aspired to share our passion for photography with everyone, and with Google's support we hope to be able to help many millions more people create awesome pictures.

We're incredibly grateful for all of your support and hope you'll join us on the next phase of our journey as part of Google.
It's unclear whether Google plans to use the acquisition to expand into the mobile photo sharing space, or whether it's simply intended to beef up its existing Google+ and Picasa photo sharing products.
If it does try to compete against the likes of Instagram, whether by developing the app or by integrating its features into Google+, it has a solid audience to expose the software to: this week Google+ just passed 400 million registered members and 100 million monthly active users. By comparison, Instagram just passed 100 million total users a week ago (though Facebook's 955M audience isn't too shabby either).
Despite being a paid app with a price of $5, Snapseed has succeeded in finding a solid user base. In 2011, Apple selected it as its iPad App of the Year, and since then the app has grown to over 9 million users.
Facebook purchased Instagram when it was a 17-month-old company with around 30 million users. The purchase price of Nik Software, which is around 17-years-old, hasn't been disclosed, but we're guessing it's somewhere south of $1 billion.
---
Update: As many commenters have kindly pointed out below, Nik Software is also the company behind a number of popular photo-editing programs. The question remains, though: would Google have considered Nik for purchase if Snapseed didn't become so popular?