A Tour of the Custom-Built Dream Studio of Photographer Dan Jahn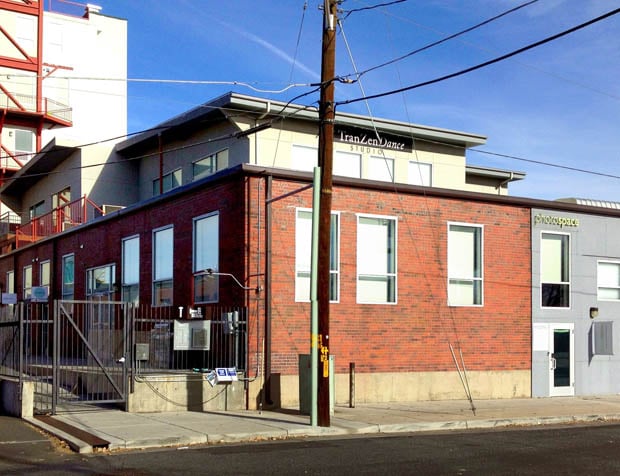 A few weeks ago we shared a custom-built workspace by a photographer named Tom Brinckman. This week we have a glimpse into photographer Dan Jahn's dream studio, a 2800-square-foot space in downtown Denver, Colorado that Jahn designed every inch of himself.

Jahn, who ran a different business before turning to photography full-time, started by purchasing a completely raw cinder block space inside an old World War II bolt factory.
He then spent five months completely customizing the space into what he had in mind, installing custom gear racks that he designed and constructed himself, a CAT6 high-speed computer network, telecommunications and audio/visual systems embedded directly into the space, custom-built staircases and bookshelves, and hand-distressed cement and wood floors.
Certain things in the studio (e.g. the blinds, air conditioning, heating, music, front door lock) can be controlled remotely using an iPad.
Walk into the studio and you'll be in this front entrance area, which contains a few chairs and an impressive collection of collector's edition photo books:
Upstairs is a client lounge, containing a large sofa, a mini-fridge, reading materials, and a large screen TV. The television has Comcast for TV shows and movies, as well as an AppleTV and MacMini, hidden inside the cabinet below it.
What's neat is that the MacMini is connected to the studio's CAT6 ethernet, which allows the TV to be used as an external display for instantly reviewing the photos that are being captured in the shooting space. This means the client can watch their photographs being captured live.
Nearby is a kitchen and bar area that features an industrial-strength oven, an infrared cooktop, an industrial-strength garbage disposal, a dishwasher, and an in-cabinet refrigerator — things that are useful for fancy food shoots.
The bathroom and changing room features a large deep sink, cabinets with extra toiletries, and a Toto toilet imported from Japan with all kinds of fancy features built in (notice how the toilet has its own remote):
Enough with the features that are intended to pamper clients. Let's move on to where the actual photography happens.
Here's a look at the main shooting area, which covers 1900 square feet:
The motorized backdrop mounted on top of the cyc wall can be switched between green and black screens at the touch of a button. In the foreground is a FOBA stand for mounting a camera of any size for shooting at various heights and positions.
The main floor is custom acid washed and stained cement with a poly-resin sealant, while the cyc wall itself is made of extremely durable concrete (skateboarders can use it as a ramp without causing any damage).
On the left side are a rolling rack that holds an assortment of lighting gear (e.g. packs, heads, modifiers), a custom steel grip gear rack, and a tether shooting station containing a Mac Pro (16GB RAM, 10,000 RPM hard drive, and 2TB RAID storage) and 20-inch display on a rolling table:
The blinds on the walls (made of 100% blackout material) are covering windows facing south and west, great for ambient light shoots during the day. The blinds themselves can be set to any height using the iPad remote control mentioned earlier.
In the left corner of the space is another custom gear rack with sandbags and extension cords. The shooting stage has eight independent power outlets that each offer a 20 amp circuit.
To the right of the cyc wall is another custom steel rack that holds flags, gobos, and reflectors:
Nearby is a hair and makeup stand, which has a large mirror, daylight-balanced light bulbs, and two dedicated 20 amp circuits for hair dryers and curlers: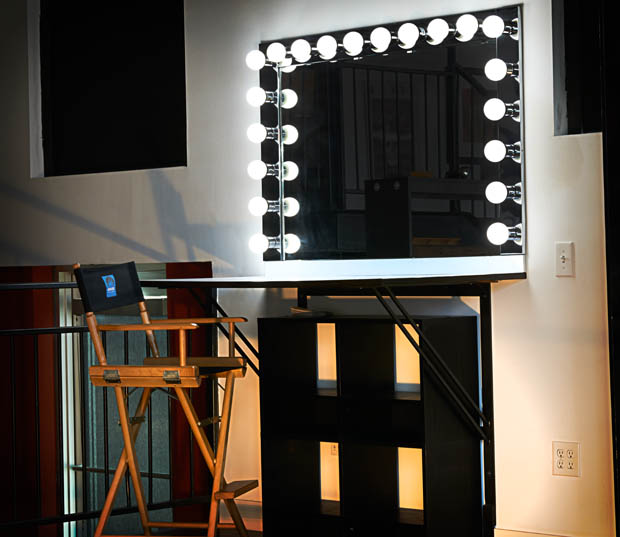 Once photographs are captured, they're post-processed at the retouch station, which is located in front of a neutral gray cement block wall. The station features a Mac Pro with 32GB RAM, a 10,000 RPM primary drive, and a 4TB RAID system for backup. The primary monitor is an Apple 30-inch Cinema Display, and next to it is an Eizo ColorEdge Display in portrait orientation for detailed color work:
Although Jahn originally designed and built the space as a personal studio, he soon began doing more on-location photography and less studio work. He then decided to make the studio available for trainings, get togethers, events, and for other photographers to rent and use, naming it Photospace.
When he made this decision to spin the studio off as its own business, Jahn doubled the equipment so that the exact set of in-studio gear would be available for on-location shoots as well. He's planning to soon add a dedicated Sprinter Van for transporting the gear from place to place.
Jahn tells us that unlike Los Angeles or Miami, Denver isn't a hotbed of high-end commercial photographer, so it doesn't make sense to build the kind of studio he did simply as a rental studio. Although the building itself wasn't purchased with funds from his photo business, all the equipment and design added afterward was.
If you're curious as to how much Jahn paid to create this dream studio, he estimates the cost to be around $1.2 million, including the cost of the old building in its bare state.
---
Image credits: Photographs by Dan Jahn and used with permission