A Look at the Sleek, Modern Workspace of Photographer Tom Brinckman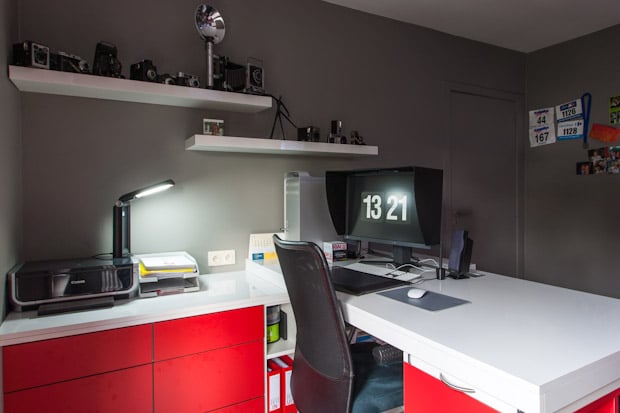 Tom Brinckman is a Belgian-based freelance photojournalist and wedding photographer. Since he works one deadline every week for his local newspaper, he's able to do most of his image editing work from his home office. Recently he decided to upgrade his workspace, and not just with new equipment or a new arrangement: he decided to put a good deal of effort into building a completely customized home office with an emphasis on functionality.

After scouring the Internet for other workspaces designed by photographers, he decided to go with a red-colored theme in order to match his personal logo. He designed his own desk and had a local carpenter create it for him.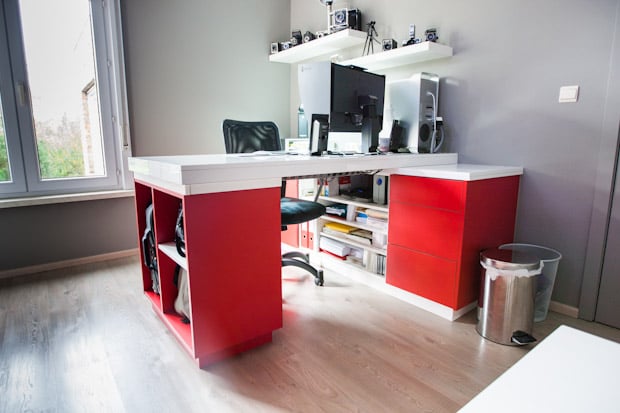 One of his goals was to reduce clutter without losing efficiency. He tells us:
In my opinion a clutterd desk is a cluttered mind. While working the desk gets cluttered, of course, but every time I finish off something I take a moment to clean the mess and restore the environment. The key to this technique? Everything must been stored away but still within reach (e.g. paper, bills, battery and office supplies). It's the same story with the backup hard drives and the router. These are tucked away underneath the desk. Easy to reach but out of sight.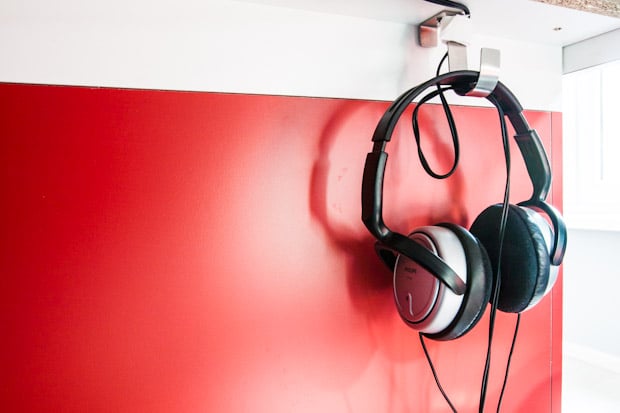 Brinckman's camera bags have their dedicated storage spaces inside the desk itself:
My book collection was also part of the design. With an education in graphic design I still love paper and books in this digital age. And I wanted it to be built in with some eye-catchers.
Although Brinckman works 100% with digital photography, he has two shelves overlooking the space filled with his vintage camera collection:
At the request of his wife, Brinckman even included a pint-sized workspace in the room to give his daughter a place to work as well (it's never too early to start post-processing, after all).
Have a one-of-a-kind photography workspace you'd like to share? Send it in and we might share!
Bureau by Tom Brinckman [Flickr via Lifehacker]
---
Image credits: Photographs by Tom Brinckman and used with permission