Interactive Photos Can Now Be Shared Directly on Twitter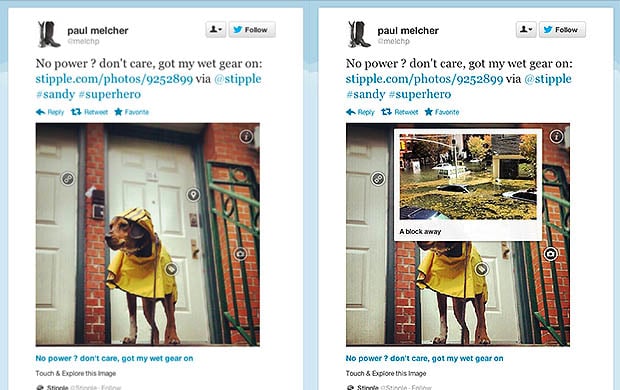 Twitter has introduced the ability to share interactive photographs directly through the microblogging social network. Images that have a rich content layer added on via services like Stipple and ThingLink can be displayed in-line through Twitter's website with all their extra goodness intact.

This allows photo sharers to add all kinds of additional information to photographs. Stipple tells us,
[…] you're no longer restricted to 140 characters to share your thoughts. Your images can carry sound, video, links to your other social profiles, ecommerce shop buttons and additional text! The opportunity to add additional context to your tweeted images means that you can maximize direct exposure and engagement through the reach of Twitter.
Interacting with some sample photos yourself will give you a better idea of what interactive Tweeted photos are like. Here are a few you can check out: photo agency VII used an interactive photo to promote a photojournalist's project and exhibition, Levis used one to link its followers to websites for a clothing sale, photographer Dan Law used one to offer more background information about a shared photo.
For a taste of what ThingLink's system is like, check out this Tweet by country music artist Joy Collins.
Keep in mind that Twitter is simply allowing for the interactive photos to be displayed inline through its service. The images and rich content layers are still created and stored on their original services, so you'll need to sign up for Stipple or ThingLink to start playing around with them.