Give Your Camera a DIY Cork Covering for Extra Grip and a Unique Style
After seeing the "woodenized" Canon F-1n that we featured earlier this month, Vancouver, Washington-based photographer Charlie Boucher decided that he wanted to give the mod a go. Unable to find any wood shoots locally, Boucher decided to go with a somewhat different (but slightly related) material: cork.

Boucher tells us,
As soon as I saw the wooden Canon F1 post, I thought, "I need to do that." I was in a creative mood and had some free time, I headed out in search of the wood panel stick on sheet. Well, I wasn't able to find any but at Lowe's hardware store down the road, I came across some stick-on Cork sheets made by Duck brand. Cork looked cool and reminds me of 70's office supplies.

I carefully peeled off the leather stick-on parts (my Canon AE-1P is one of the older ones that had all stick-on leather parts. Newer ones have plastic instead.) I used the parts I peeled of as templates and used some scissors to cut the shapes out of the cork. Then I carefully stuck them on, pressed them into the camera, and then used a razor knife to trim off any parts that stuck out a bit. So far the pieces have stuck very well. It's very grippy and seems like it will hold up well. Plus I think it looks killer.

All in all I'm super stoked and plan on doing more custom work. I have a power winder for my Canon so I'll work on that next.
We've seen custom camera coverings ranging from special woods to cobra skins, but never a cork one. However, after learning of Boucher's mod, we discovered that Lomography recently released an entire line of special-edition cameras that feature real cork coverings as well: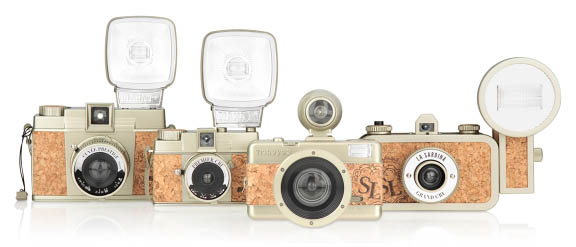 If you're into this look, you can buy your own cork sheets (designed for lining shelves) over on Amazon for about $10 for a large roll.