Lighting a Wakeboarder Using a Battery-Powered, Helicopter-Mounted Strobe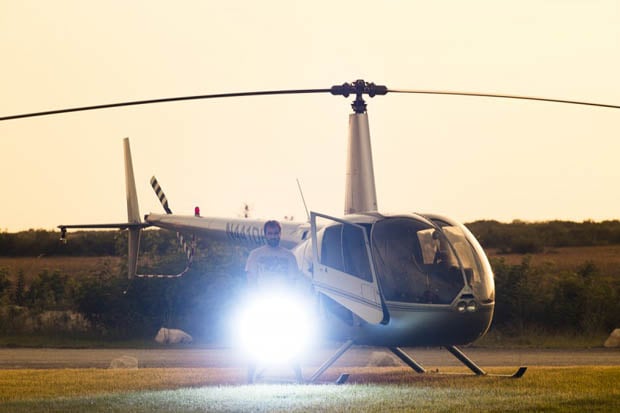 Photographer Bryan Soderlind recently did a photo shoot with his buddy, professional wakeboarder Rusty Malinoski (the first person to ever land a 1080 in competition). Instead of the usual setup photographers use for wakeboarding photography, the two decided to try something crazier: lighting the action from the air using a battery-powered strobe placed in a helicopter.

Soderlind writes that a helicopter "would be the ultimate light stand, following the rider and being able to light him at any angle."
After consulting with a wakeboarding photographer friend who had tried the same idea in the past (with mixed results), renting a helicopter, finding a good location (a rock quarry owned by a friend), and picking a day with good weather, the shoot went down. Soderlind states,
We had the helicopter for two hours of fly time to get the shot we were going for. While the sun was high and were waiting for evening to set in, Rusty decided to take a a warm up ride and I decided to jump in the helicopter for a few shots. Our pilot Dirk was new to this kind of aerial photography but quickly learned how close he needed to be for us to get the shot. The light was still too high to shoot so we all decided to wait till the sun dropped to the horizon […]
At about 7pm we made the call to fire up the boat and helicopter again. Rusty rode like a man possessed, hitting double up after double up, getting almost 20 feet of air almost every time. The strobe in the helicopter didn't fire every time as planned but it did fire enough times to get the shots we wanted.
Here's Soderlind's favorite photo from the shoot:
Sunwest [Bryan Soderlind Journal]
---
Image credits: Photographs by Bryan Soderlind and used with permission