Canon Unveils the Pricey but Stabilized 24-70mm f/4L IS and 35mm f/2 IS
The rumors were off but the leak was spot on: today Canon officially announced the not-so-secret 24-70mm f/4 IS and the 35mm f/2 IS, bringing image stabilization to two new focal length ranges.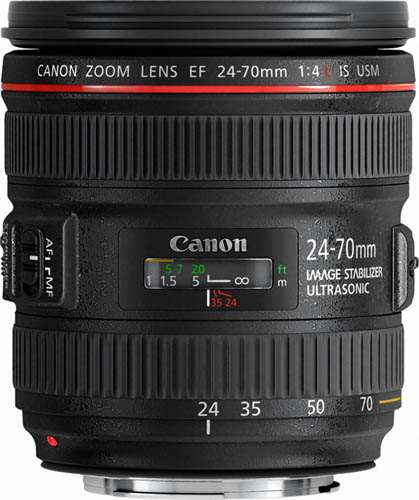 The new Canon EF 24-70mm f/4L IS USM is a cheaper and lighter alternative to the highly-regarded 24-70mm f/2.8 II. It loses a stop in terms of aperture in exchange for four stops of image stabilization. It's just 3.7 inches long, quite compact compared to the 4.4 inches of the 24-70mm f/2.8 II and the 4.2 inches of the 24-105mm f/4 IS.
The lens features macro photography capabilities at the 70mm end with the help of its 7.9-inch minimum focusing distance. Macro mode is enabled by toggling a switch on the lens barrel.
The manual focus is engaged at all times, allowing you to adjust the focus even while shooting in autofocus.
Canon calls the lens, "The ideal companion to Canon's full-frame Digital SLR cameras such as the EOS 6D." (You can almost hear the Canon 24-105mm f/4 IS shouting, "Hey, I thought that was my title!"). Canon will reportedly be including this lens as the kit lens of the 6D, which is interesting, since photographers have been quite happy with the 24-105mm f/4 IS as the kit lens for full-frame Canon DSLRs. Having a smaller and lighter kit lens is nice, but it'll be coming at the expense of 35mm of range on the telephoto end.
The 24-70mm f/4 IS will be available starting in December 2012 for the price of $1,499. Rumors over the weekend had suggested $849 as a possible price. That was way off.
The new 24-70 f/4 IS is definitely more affordable than the $2,300 24-70mm f/2.8 II, but is less affordable than the $1,100 24-105mm f/4 IS.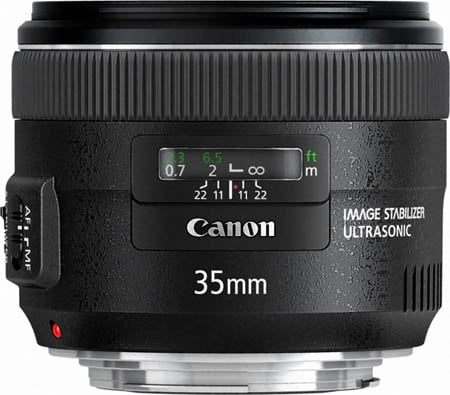 The Canon EF 35mm f/2 IS USM is the latest Canon wide angle prime to be endowed with image stabilization, following the 24mm f/2.8 IS and the 28mm f/2.8 IS.
Canon claims that the new 35mm will be better in image quality, more durable in design, and faster and quieter in autofocus than its predecessor.
The lens will be available in December 2012 with a price tag of $850.