A Look at the Use of Sony CMOS Sensors in Nikon DSLRs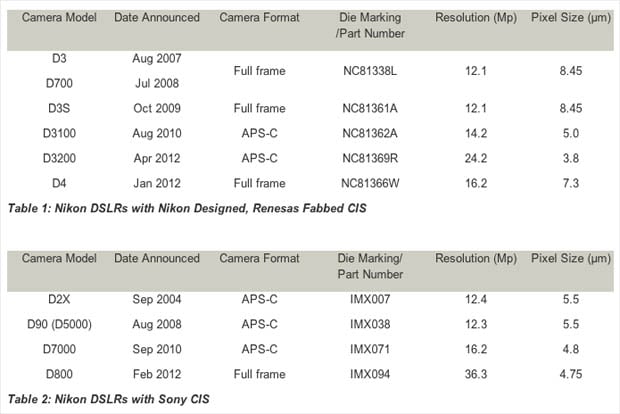 Electronics reverse-engineering company Chipworks has published an article that discusses and reviews Nikon's use of Sony CMOS sensors in certain DSLRs:
The recent high profile Apple vs. Samsung patent infringement case further emphasizes the incestuous nature of the supply chain for components in consumer electronics. Apple has traditionally sourced a great many components for its smartphones and tablets from its competitor Samsung. An analogous relationship exists in the DSLR world where Nikon both designs its own CMOS image sensors (CIS) to be fabricated by a foundry partner, and sometimes uses CIS components from its camera competitor Sony […] What is somewhat interesting is that after a run of Nikon-designed CIS devices in Nikon FF and APS-C cameras, Sony has muscled its way back in for the FF format D800 […]

Sony supplies the CIS for the D800, a camera with the resolution (36.3 Mp) and performance that approaches the performance of medium format cameras for some applications […] While there are certainly those who groan at the prospect of cranking up the resolution of a FF sensor, the D800 appears to be a disruptive event in the FF camera segment – one that Canon is rumored to likely respond to.
Chipworks notes that the D800 has the smallest pixel size of any full frame sensor it has examined so far. Canon is reportedly hard at work testing tiny pixels of its own.
Full Frame DSLR Cameras – Nikon vs Sony [Chipworks via Image Sensors World]