Marketing Fail: A Demo of AF Speed with a Lens Set to MF
In the beginning of last month, Nokia was caught faking sample photos and footage in a promo video for the camera on its new Lumia 920 phone. A couple of weeks later, bogus information about camera sensors was found on the official website for Hasselblad's new Lunar mirrorless camera. This week, we have a new episode of "camera marketing fail" for you, this time brought to you by Phase One.

The video above, titled "Shooting with auto focus", was uploaded to the company's official YouTube account back in 2009 to promote the new Phase One 645DF medium format camera. Here's the description:
Showing the auto focus function working on location with the Phase One 645DF camera system.
Upon first glance, it may appear to be a straightforward 1-minute educational video and demonstration of the camera's autofocus speed. Look a little closer, and you'll find that things aren't as they appear.
A sharp-eyed reader named Fred noticed that even as the photographer talks about "showing off the speed of focus", the lens is clearly set to manual focus: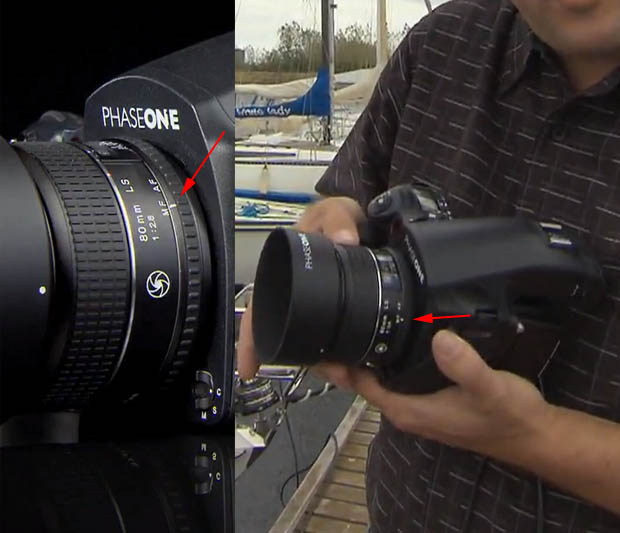 Midway through the video, after the camera cuts between the photographer and the model, the lens is seen set to AF (this suggests that the video is a combination of multiple takes).
We all (hopefully) know that advertisements aren't always the best at representing facts in a truthful and straightforward way, but the fact that this video purports to be an educational demonstration makes it even more iffy in our eyes…
If any video needs a truthful and unedited depiction of how a particular camera functions, it would be this type of video, right? If not, apologies for the storm in the teacup.