Google Glass Camera Glasses Used by Runway Models as a Fashion Accessory
If Google's vision of the future of photography comes to pass, we'll soon find ourselves in a world in which camera glasses are worn around as an everyday fashion accessory. Perhaps in an effort to make this idea easier to stomach, Google partnered up with luxury fashion company Diane von Fürstenberg (DVF) today for the label's Spring 2013 fashion show, equipping people on and around the runway with its high-tech glasses. Glass wearers included runway models, Google founder Sergey Brin, and designer Diane von Furstenberg herself.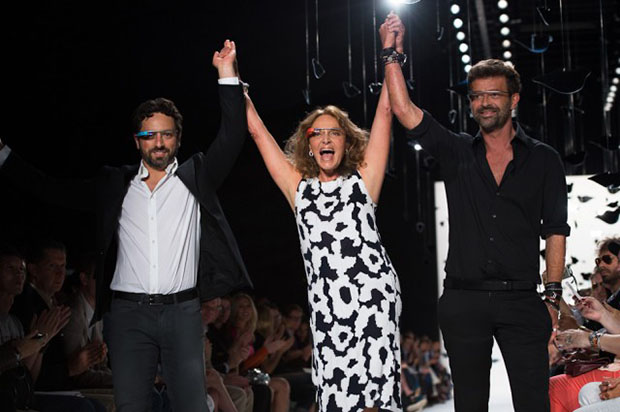 Want to check out the point-of-view photos captured by Glass wearers? You can find a bunch of them over on Google+. Just search for the hashtag "#DVFthroughGlass".
On September 13th, DVF will also be uploading a video compilation of Glass footage on its official YouTube page.
Judging from the sample photographs we've seen from Glass goggles so far, people who do buy into the idea early will be doing so for convenience and novelty rather than photo quality. The big question is whether the general public will be willing to integrate a pair of futuristic camera glasses into their daily outfits and go about their everyday lives looking like a cyborg. If the answer is yes, take a close look at these photos — you're staring at the future.
(via PurseBlog)
---
Image credits: Photographs by PurseBlog and used with permission