Impossible Project Not Happy with Polaroid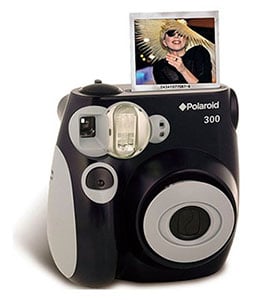 Polaroid stopped making instant cameras back in 2007, and ceased production of instant film two years later. Before Polaroid pulled out completely, the Dutch-based Impossible Project purchased Polaroid's old equipment and factory in the Netherlands in an attempt to save Polaroid film from going extinct.
The company successfully re-engineered the film, and launched the new line of instant films a couple months ago. Recently they even opened up a storefront in New York City.
In the meantime, Polaroid found a new owner, and recruited Lady Gaga as the Creative Director and face of the company. Last week Polaroid announced a new instant film camera, the Polaroid 300, which looks remarkably similar to the Fujifilm Instax Mini 7.
According to Amateur Photographer, The Impossible Project isn't very happy with the new camera, since they were expecting Polaroid to announce a new camera that would accept their 600-type film. Polaroid had showcased such a camera back at CES 2010 earlier this year.
A spokesperson for the company was quoted as saying,
The management of the Impossible Project finds this confusing and clearly wants to state that the Polaroid 300 is not the camera that has been announced in Polaroid's press release from January 7 2010.
My guess is that we'll be seeing Polaroid's real announcement coming soon. If you're a fan of Polaroid photography, hold your horses — good things come to those who wait.
---
On a semi-related note, Wikipedia has a pretty interesting summary of how The Impossible Project came to be:
Austrian photographer Florian Kaps, the owner of the largest online vendor for SX-70 films and organizer of the web-based instant photo gallery Polanoid.net, had bought the approximately 500,000 film packages that were on stock. He teamed with André Bosman, a former head of film production in the large Polaroid film factory at Enschede, designed a plan to redesign the SX-70/600 film system in collaboration with Ilford Photo, and convinced the Polaroid owners to participate. Plans for a relaunch under the Impossible label were announced in January 2009. Buildings in the Enschede plant, which had produced 30 million film packs in 2007 and 24 million in the first half of 2008, were leased to the company created by Kaps, who by May 2009 had raised $2.6 million from friends and family for what he had named The Impossible Project.
500,000 film packages? Wow…