CES 2010 Pre-Game News Roundup
The Consumer Electronics Show hasn't even officially begun, but product announcements and press releases are already flying around.
There are plenty of new, amazing, and often routinely updated camera features, point-and-shoots, and swanky add-ons like the upgraded Eye-Fi 8GB Pro X2. In addition to our regular content, we'll be discussing some of the gear on PetaPixel and sharing noteworthy photo-related news links over the next few days as CES kicks off.
Sony Cyber-shot DSC-HXV5 has GPS Feature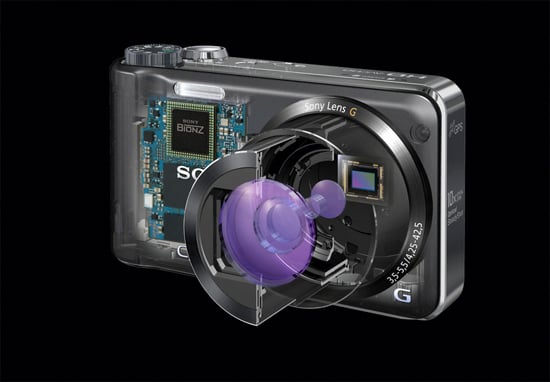 Sony's got an interesting concept: the Cyber-shot DSC-HX5V features a built-in GPS and compass, on top of the included Sony G 25mm-equivalent lens, 10x optical zoom, and a 10-megapixel back-illuminated CMOS sensor, a full HD video mode, and 10fps. Impressive. However, for consumers who already have a functioning GPS system or a smart phone, GPS as a camera feature seems a bit redundant.
Read the Sony release here.
Sony starts new line of SD memory
Sony made a surprising announcement that they are to produce a new line of SD memory cards. In the press release, Sony claims the inclusion of SD technology in more products, along with manufacturing Sony branded cards will "compliment Sony's existing Memory Stick line, satisfying the needs of a broader range of users."
Read the release here.
Kodak and Canon release Wi-Fi enabled printers paired with Apps
Kodak's new ESP 6150/ESP7250 models (ESP 7250 shown on left) are compatible with the Kodak Pic flick application which allows smartphone users to print images directly.
Canon multifunction printers (Pixma MX870 on right) also utilize the new Easy-PhotoPrint EX application for the Apple iPhone.
Read more on Kodak and Canon printers.
LaCie's WhizKey and CooKey modern USB design
While not directly photo-related, the new LaCie key-shaped USB defices are worth a second look. LaCie came out with the innovative design last year, but jazzed the 2010 with faster transfer rates and a more durable handle.
Take a look here.
---
More cool news and products:
Stay tuned for more CES 2010 news and product finds later today on PetaPixel.