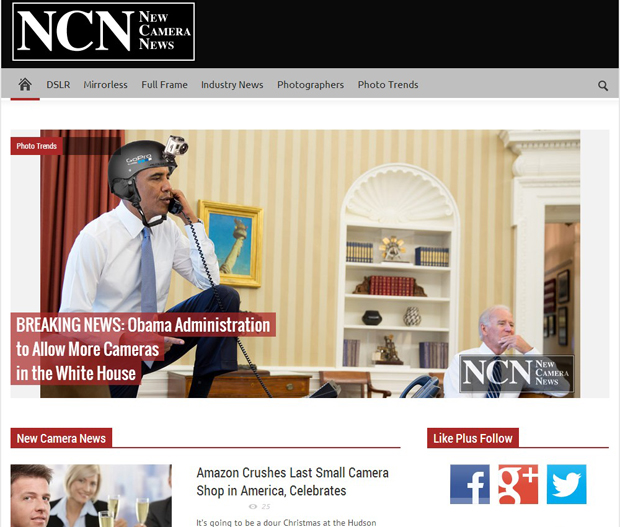 Being "journalists" more or less restricted to "facts," we can only look with awe and envy at New Camera News: a blog that tells the truth about the photography industry by making up witty, insider satire in the mode of The Onion (an apt comparison we owe to the folks over at DIYPhotography)
The site and accompanying Facebook page were launched a few months ago with the following explanation:
New Camera News has been covering new cameras since the mid 1800s, when our great great great great grandpappy Cyrus exclaimed with much drama, "I'm going to start a website that covers cameras!" We all thought that he was daft (and he was, according to the most prominent physicians of the day), yet he persisted, first scratching out the news on a piece of parchment that he would carry around the village and thrust into peoples' faces, much to their chagrin, and then, once his cousin John got a hold of one of those newfangled "typewriters", on better parchment … That's our story and we're sticking to it … If you'd like to contact or compliment us, send an email to info@NewCameraNews.com. Insults should be sent to info@DPReview.com.

Whoever is responsible for the site has already churned out a remarkable number of "stories" that will alternately delight and hit a little too close to home for photo weenies. Some favorite headlines so far:
Not much else to say except give them some love and don't blame us if you laugh so hard icky stuff comes out your nose.
(via DIY Photography)