Yosemite Firefall: A Photographer's Guide in 2023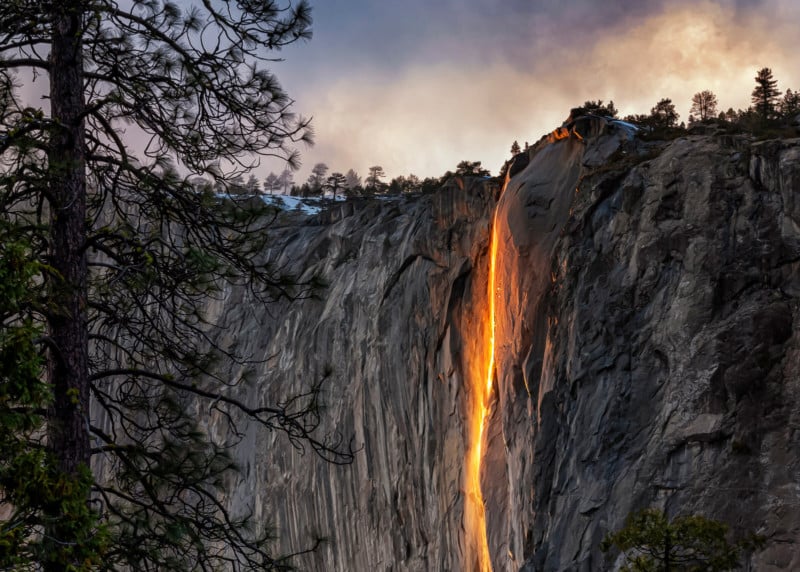 We photographers generally have long lists of projects we want to do and then we have our bucket list items — those things we can only hope we someday get a chance to shoot. As a nature and landscape photographer, the big three on my bucket list were the Subway at Zion, Fly Geyser, and Yosemite's Firefall.

It took a while, but I got to the Subway with a couple of photographer friends, and a year or two later a friend and I both made it to Fly Geyser. But Firefall was always a tough egg for me to crack. Would the weather be right? Would it be worth the drive? Should I invest the time and energy to do it? I was scared of the commitment to something I did not know or have a guide to! And let's be blunt: a
lot
of things have to go right for Firefall to happen. And as I recall,
it did not even happen at all in 2020
because of drought.
There is always a very real possibility that the falls do not occur on any given day or in any given year. Know that going in. But if you know what to look for, plan well, and are willing to take some chances, this can be your guide. Firefall is very doable, and one of the experiences in life that deserves to be on your bucket list.
Table of Contents
What is Firefall in Yosemite National Park?
First, what is Firefall? It is a natural phenomenon combining light and water on the southeast face of El Capitan in Yosemite National Park in California. It requires a snowpack on top of El Capitan, and a warm enough day to melt some of that snow. Then, if we get a whisper of a flow, the seasonal waterfall Horsetail Falls is formed.
If there are no clouds to the west and the sun is at the correct angle, at sunset, enough sunlight will shoot in to illuminate the mist of the falls, giving an illusion of flowing lava down the face of El Capitan. The waterfall will look like it is on fire (hence the name).
And yes, it does look that cool in real life; this is NOT the result of Photoshop manipulation.
When Yosemite Firefall Can Be Seen
This phenomenon can happen twice a year, once in mid-to-late February and again in October. Because Horsetail Falls needs to be flowing (and that means warm weather), October is the rarer event of the two, and only occasionally is seen. Thus, February is the one that draws all the attention and all the photographers.
In 2022, for example, the peak day was February 22, with each day preceding and following that date offering a little less intensity in the ideal sun position. That is not to say light on the 21st will be bad. But the further away from the peak, the less intense the effect. If you go any time during those two weeks around the 22nd, you should get something very nice (at least in theory, the weather has to cooperate, too!)
What do you look for before you go? Snow. You want to make sure there is plenty of snow that year in Yosemite. If you see plenty of snow and a wetter and colder year predicted, you should feel good about your chances to catch the event.
As it gets closer or even into February, keep your eyes glued to the weather charts and predictions — you want to see clear, sunny days. Clouds greatly reduce your chances of Firefall occurring. And it's not the clouds above Yosemite you should be worried about, you want clear skies over Fresno, Madera, Chowchilla, and Merced. When you are actually in Yosemite, this cloud cover can be very hard to gauge, so sometimes you just have to sit it out and keep your fingers crossed.
You greatly increase your chances to see Firefall if you have multiple days in the park. More than once, I have been disappointed, only to return the following day for some spectacular light and an incredible show. The weather in and around Yosemite and the central valley of California is always changing, and one day has no bearing on the next in late winter.
Like anything weather reliant, there is just no way to know unless you invest the time, and wait to see what happens. The more days on-site you have to give to this adventure, the better your chances of seeing the phenomenon at least once. And let's face it, even if you miss Firefall, you are in one of the most beautiful national parks in the United States (if not the world). Suck it up, look around, and enjoy the beauty all around you.
New Park Rules for Firefall Starting in 2022
Due to Firefall's growing popularity, Yosemite National Park implemented some new rules for people who wished to experience it in 2022.
Restrictions will be in effect from mid- to late-February every year from 12pm to 7pm. Dates for 2022 were February 10 through 28.
Reservations are not required, but visitors will need to park at Yosemite Falls parking and walk 1.5 miles each way to the viewing area near El Capitan Picnic Area.
If the parking lot is full, you can park at Yosemite Village or Curry Village and take the free shuttle to get to Yosemite Falls parking/Yosemite Valley Lodge.
Some roads will be partially or fully closed at various times to allow for increased foot traffic.
Visitors must wear a mask.
You can find the complete list of rules and restrictions for Firefall on the Yosemite National Park website.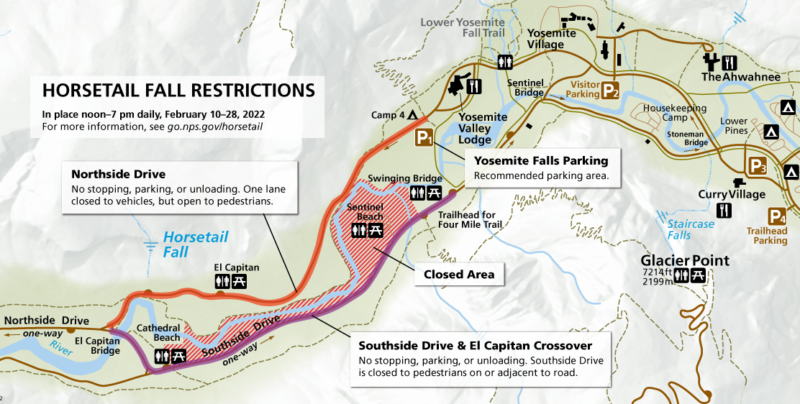 What Equipment to Use to Shoot Firefall
What gear should you take? Well, what gear do you have? Being blunt, no great skill or special equipment is required to get decent shots of Firefall. My iPhone pictures of the event are actually really good! When Firefall happens, usually at around 5:30 pm or so, the exposure is generally pretty flat. There's no great secret skill in setting exposures to get just the right color or light — you just need to be there.
But there is some background information that will help you improve on what you shoot there. As you can see above, I was shooting a 70-200mm telephoto zoom lens on the Nikon Z6 mirrorless camera, and a 200-500mm lens on the Nikon D850. The 6×7 here has a 250mm, and I believe I traded that off with a 127mm during the event. I found these ranges to be perfect for what I wanted and for where I was shooting from.
To give you an idea of exactly what each lens got me, here are some photos I captured:
Here's a look at the most extreme shot I took:
And finally:
As you can see, I barely ever stepped out of the range of a moderate telephoto zoom lens, and not enough that a minor crop would not suffice to give you that extra reach. Fantastic and super-long telephotos are not needed here, and neither are wildly insane large apertures. These were all done at f/11. Shutters were a bit slow, both to give me the f/stop I wanted and to slightly blur the water.
A good, solid, and stable tripod is a must. When you shoot any telephoto lens, tripods are a really good idea, and when you do shoot this slow, a requirement.
Don't have a tripod? OK, let's compensate! First, I would say let's open up to, I don't know, maybe f/5.6. And we are using a long lens, so we want a 1/200 exposure to compensate for any camera shake. ISO 2500 will give you the same exposure. That is certainly doable, but that is NOT ideal. Do yourself a favor. Get a tripod — a good tripod — so you can get the long exposures at an f/stop you like and a low ISO.
Alternatively, maybe all you have is a nifty fifty. Great lens, and probably will work okay here. It's a little wide, but you know the lens and you will get acceptable results. Or… here's an alternative you may not have thought of: rent a lens! There are plenty of online rental shops that will ship you a lens for a reasonable price for a few days and even include the return postage. Don't forget to check with your local camera store. They may also rent you gear.
If you do rent your gear, you should consider getting it a day or so early and practicing with it — you can thank me later.
Other Essential Gear for Yosemite Firefall
There are some other gear considerations I think are essential.
A good camping chair is invaluable — you will spend a good deal of time waiting. If you are taking more than a chair and a single tripod, a foldable wagon is well-advised. You can also bring a blanket to spread on the ground. Munchies and some drinks are good. A hat, a heavy jacket, and good gloves. And warm wool socks are a great idea, too.
Gear-wise, capturing a good Firefall image is not really out of reach for anyone, beginner or advanced. The only thing that comes into play is getting to Yosemite, and that really will be the struggle for most people.
Getting to Yosemite National Park
You will need to take some time off in February to get to Yosemite. The good news, February is not the most in-demand time of year for vacations in most businesses. Getting time off in February should be easy to slide by your boss. Hopefully, you are good there.
The bad news is those photographers who are like-minded may have already snapped up the existing reservations at the ideal hotels. Firefall also tends to fall on President's weekend, so more people than normal will have free time and think about the outdoors. Points for planning early because there are a very limited number of hotel rooms available in the Valley. (I booked in October.)
If you are not local, you are probably best advised to fly into Sacramento — that is about the closest large city. If you can get into Fresno, you are golden! You can also drive from the Bay Area or even LA, but those are long drives- on the order of 3-5 hours or more.
And "drive" is the key here. You will need a car (or a rental car if you fly in). You will need some way just to get to Yosemite, and to carry the mounds of gear you will be bringing in. In my case, I will be driving the full 12 hours from Salt Lake into the valley because I have so much gear and it is the best option for what I plan on doing.
The main road makes a one-way oval through the valley. You will enter on Southside drive, which is closed to stopping and pedestrians, and not an option for any photography. At the end of the valley, the road flips around and turns west to become Northside Drive. It is on Northside Drive you will find Yosemite Lodge and the parking area for Firefall photographers.
Know that from this point on, as described in the new rules above, there is no stopping on the road to drop people or gear off. Either park here and hoof it in, or drive the whole course over again. (There are exceptions for those with disabilities, including parking right at the photo areas. Do not try and take advantage of these if you do not need them. You must have a valid placard or license to stop, drop off or park after Yosemite Lodge on Northside Drive and the road is heavily patrolled.)
Staying in Yosemite National Park
One of the ways I increase my chances — or at least make the crapshoot more fun — is that I stay in one of the properties in the park. If you can, The Ahwahnee is probably the most beautiful home base you can think of! A Grand Lodge in the tradition of Yellowstone and the often-overlooked Lodge at Grand Canyon North Rim, The Ahwahnee will transport you to a time and a place where elegance in nature was a thing travelers expected.
We have done brunch at The Ahwahnee and watched deer forage just outside our window. And I had dinner at the lodge while the pianist regaled us with stories of being Ansel Adams's assistant. The shadow of Ansel is all over this park, and that is probably another reason photographers are so drawn here.
The Ahwahnee is not for everyone. Another good option is the Yosemite Lodge, which is ideal for single photographers or whole family's enjoying the park. And it has the added advantage of being the jump-off point for the hike to where you shoot Firefall from- more on this later. The rooms are dated but comfortable, and a bit easier on the pocketbook than The Ahwahnee!
For the campers among us, there are hotel rooms and campsites at Curry Village. I doubt the canvas tents are available in February, but this is another good option for staying on property at Yosemite.
Yosemite Village has a village store to pick up essentials, fun little extras (I personally like the box wine while I wait for the Firefall to commence), and Yosemite souvenirs. Just about anything you forgot (or suddenly need) can be found without leaving Yosemite.
Why do I make such a point of staying in the park? In a word: Traffic. The road into and out of the park is a single lane, and during Firefall, it can become very overburdened. I prefer a bit more control over my timing, and quite frankly, I love staying in the park. Sure, I want to get Firefall, but I also want to enjoy myself and my surroundings. I cannot do that when I'm stuck in traffic. That's just me, though — you do you.
Additionally, Yosemite may limit visitors to the park during this period. While this year, the park says it will not limit people, they did in 2021, and they probably will in future years. If you are staying in Yosemite, you WILL get in no matter what. That may be a consideration, not so much this year, but in future years… so be advised!
Hiking to Yosemite Firefall from Yosemite Lodge
Once you are parked at Yosemite Lodge, you can start your hike. The hike is fairly level, and about 1 ½ miles in length. The road is sectioned off with traffic on the left, and walkers on the right. You will be reversing this hike after the big show.
After about a mile, start looking to your right. You will start to see that familiar shape of El Capitan emerging. Don't worry too much about knowing where the falls will be-it is pretty obvious! The closer you get to the El Capitan picnic area, the more and more people you will see. Now you have to judge where the view and your level of crowd interaction balance. The area around the gentle corner where Northside Drive goes from southwest to west in heading is about the best place to set up.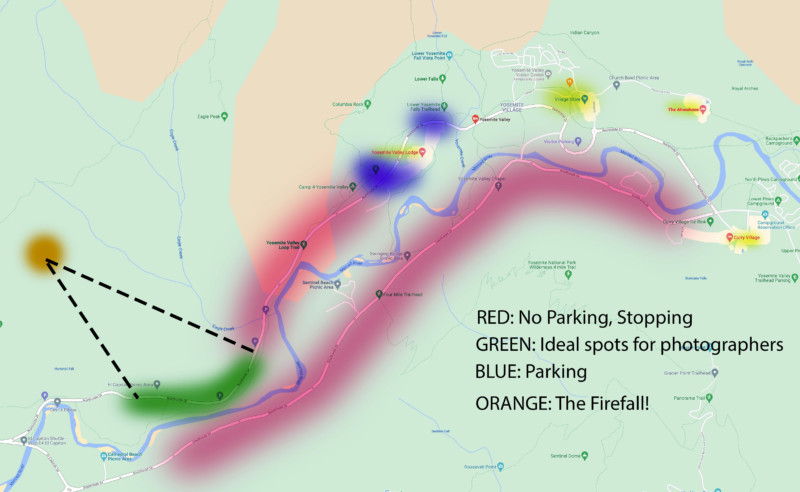 How to Photograph Yosemite Firefall
Now comes the fun park. All the work is done; from here out, just kick back and enjoy the show. While you are waiting, take a minute to take in your surroundings. You are in one of the most beautiful places on Earth- don't ever forget that, or take for granted how lucky you are to be there.
And if you want my additional, off-topic advice, reach out and meet those around you. It helps pass the time and can add a lot to the experience. There are 100s if not 1000s of very like-minded people around you; people who love this as much as you do! People who are willing to drive to an out of the way spot, hike in the cold, and wait for something that may not even happen. Make new friends!
This is Joe. I did not know him until about 20 minutes before I took this picture. We did NOT get a Firefall that evening, but a lasting friendship was born that day. The following day we met up and DID get a wonderful Firefall. And then we celebrated with prime ribs at The Ahwahnee. Since then, we have stayed in touch, encouraged each other's shoots, and done a memorable 3-day photoshoot through southern Utah.
So remember what you get out of this trip depends on what you put into it. You may not get a Firefall. Make memories anyway.
The sun is dipping in the west. The excitement begins to ramp up, and everyone around you is electric in anticipation. If Firefall happens, it will begin around 5:30 pm; expect it to last from 10 to 20 minutes. There is plenty of time to get a LOT of shots. Vary your everything. You will have a lot of opportunities to experiment, so take it.
Get your solid shots first. Then zoom-in (or out). Take selfies. Change the shutter speed and see how that affects the falls.
In 2021, Firefall faded after about ten minutes… before returning even stronger! It was amazing. Everyone was clapping and cheering! So be prepared for something different, and be ready to capture it.
Once the light finally fades for the last time, it is time to pack up and head back to your car (or Yosemite Lodge if you are lucky). If you are in a car, you have a long wait to get out of the valley, and a long drive to wherever you are based. This is when you will wish you had a place in the park. But you won't care, you will be euphoric for having seen one of nature's most spectacular shows. And it truly is: the magic of Firefall will stay with you, and make you smile every time you see your images from that evening.
If you are lucky enough to be staying in the park, make sure to get up early for some other, equally beautiful shots the next day. Yosemite is a lot more than just Firefall. You'll want to hit Half Dome, The Three Brothers, Tunnel View, Yosemite Falls, and many more beautiful places. Maybe you'll get some weather. You will certainly get some world-class views. Be there.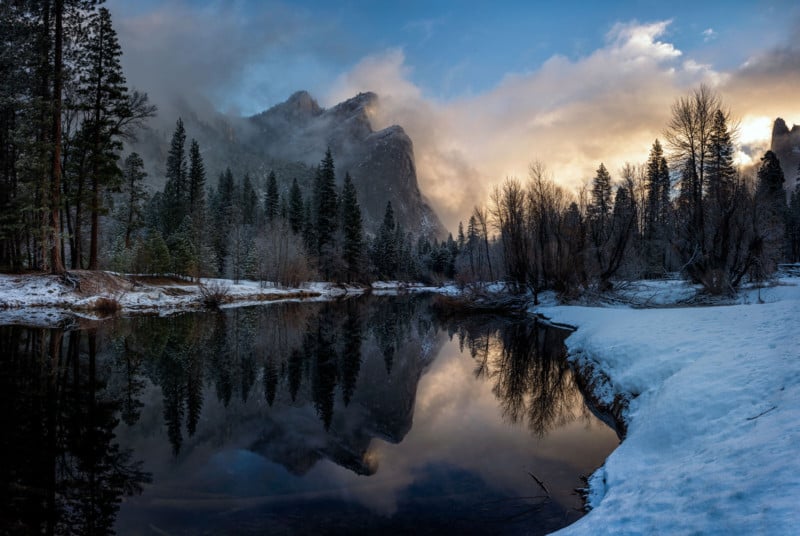 A Summary of Tips for Shooting Yosemite Firefall
Here's a summary of tips and things to know for seeing and photographing Firefall in Yosemite National Park.
When does Firefall happen?: In mid-to-late February and October, with likelihood higher in wetter and colder years.
The window is brief: Firefall will usually begin during sunset at around 5:30 pm and may last just 10 to 20 minutes.
Spend multiple days to increase your chances of seeing Firefall.
Camera equipment doesn't matter as much as being in the right place at the right time.
A tripod is recommended for capturing sharp photos especially at slower shutter speeds.
Bring a good chair and dress warmly as you will be spending most of the time waiting for Firefall.
Nail your crucial shots first and then vary your settings to capture a variety of compositions.
Make the most of Yosemite, a world-famous national park with plenty of gorgeous photo opportunities everywhere you look.
The Most Important Thing is to Be There
When I was in photojournalism, we had a saying: "f/8 and be there." That saying is the essence of photography. What does that mean? Notice it does NOT say "Z9 or R3 and be there" because it is not about the camera or even the gear. It is about picking a reasonable exposure and putting yourself into a situation in which you can get "the picture". You will never get "the picture" if you aren't there to take it! And that is the ultimate secret of photography. It's not the rule of thirds or exposure triangles. It is simply "Be There".
I will be back at Firefall this year. Look for me, I will be wearing that goofy camo Looney Tunes flopping thing I lovingly refer to as my "Adventure Hat." Come up, say hi, and tell me about your adventures! And let's have some fun!
Take Only Photos, Leave Only Footprints
Finally, I would be remiss if I did not remind everyone that Yosemite is a national park and a world treasure. If you hike in with something, take it out with you. Do not leave any trash behind.
Also, drones are illegal in any US National Park. Do NOT fly, and you can report anyone you see flying.
If you see any wild animals, give them their space; this is their home, not yours. (The rule of thumb is if you can't block the animal from your eye with your thumb at arm's length, you are too close!).
It is sad that I have to say these things because there are those people who either don't know these simple rules or chose to ignore them. These are our national parks, and it is up to all of us to protect them.
And there you have it: an in-depth guide on how to visit, see, and capture the amazing Firefall phenomenon in Yosemite National Park. Happy shooting!
---
About the author: Dave Koch is a real estate, commercial, event, portrait, and fine-art photographer based in Utah. With over a decade of experience in the field, Dave has been recognized by his peers with the Best of State award twice for his commercial photography. Before stepping out on his own, Dave spent fifteen years as a professional photojournalist across California, Arizona, and Utah. For fun, Dave enjoys spending his free time exploring the length and breadth of his adopted home state of Utah with his wife and daughter. You guessed it: taking pictures. You can find more of his work on his website, Facebook, and Instagram.
---
Image credits: All photographs, unless otherwise labeled, by Dave Koch.