This is What the Crowd of Photographers Looks Like During 'Firefall' in Yosemite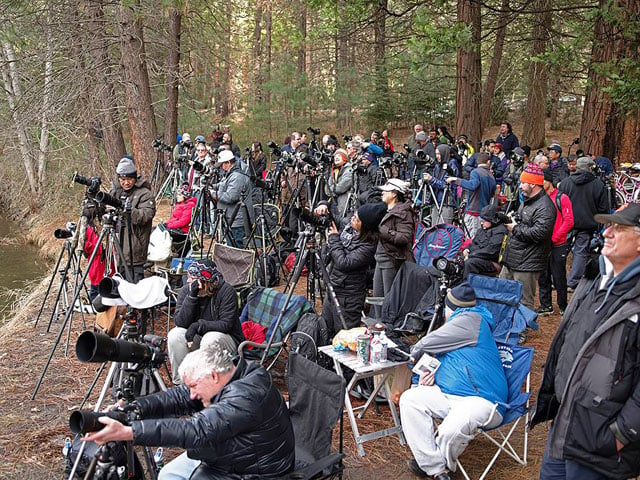 Last week we shared some stunning photos of "Firefall," the phenomenon that occurs in Yosemite during the last 2 weeks of February each year, when the Sun lines up just perfectly with Horsetail Fall on El Capitan to make it look like glowing lava.
While photos of "Firefall" have been spreading around the world, it's not often that you see what the location looks like on the other side of the cameras. The photo above shows the massive crowds of photographers that gather each year to snag their personal photo of the Firefall phenomenon — the picture only contains about 30% of the photographers that were at the scene.

The photo was shared with us by photographer Phil Hawkins, who teaches landscape photography workshops in Yosemite. He managed to capture a remarkable photo of the Firefall himself:
"It is a truly religious experience to see this display evolve," Hawkins writes. "This year, after 5 years of drought, the conditions for shooting it are the best in almost 10 years."
Hawkins set up his gear in the Southside Drive spot of Yosemite Valley, one of two main areas that photographers view the Firefall from (the other being the Northside Drive).
"Let me try to put this into perspective; this is a photography orgy," Hawkins says. "The nicest freaking people in the world, all helping each other, trading war stories, exchanging shooting location stories, comparing equipment, other workshops, etc."
"It's a freaking blast! Picnics everywhere, folks with wine, etc," he continues. "It was SO much fun! And, after it's over there's a huge applause, cheering and such. […] You have no freaking idea how much fun this is."
People shot with everything from the latest and greatest DSLRs to large format cameras.
If you're interested in taking part in this event yourself, clear your calendar around this time next February and make a trip out to Yosemite Valley.
---
Image credits: Photographs by Phil Hawkins and used with permission