Yosemite Says Horsetail Fall Has 'Little to No Water' Ahead of Annual Firefall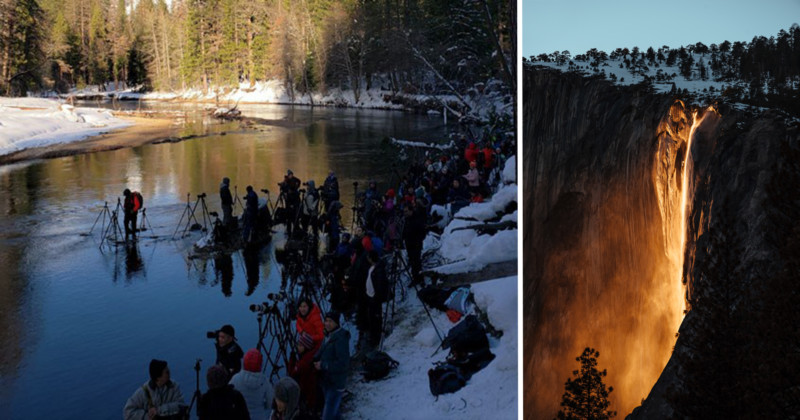 The National Park Service is warning that Yosemite's famous Horsetail Fall may not deliver for this year's natural "Firefall." Though the park is preparing for an influx of photographers by implementing significant restrictions, an alert on the NPS site says the fall has "little to no water" right now.
The annual "Firefall" happens in mid-February when the sunset lines up just right to make Horestail Fall look like it's on fire. Assuming enough snowmelt and the right weather conditions, photographers can capture spectacular photos like this one: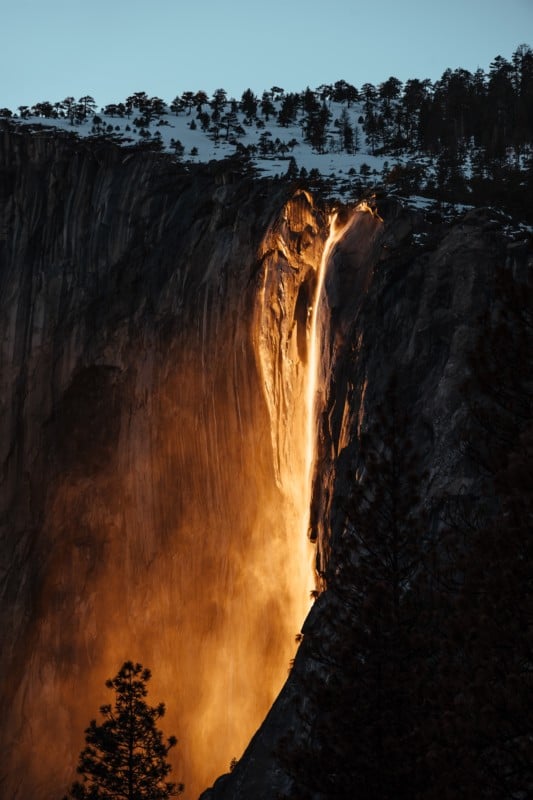 In recent years the event has drawn international attention, leading large crowds of photographers to flock to the area and struggle to find a spot from which to take their pictures. This year, the Firefall is expected to be visible for the two weeks between February 13th and 27th, and the park is already preparing to deal with the crowds.
As a result of last year's debacle—more than 2,000 visitors flooded the park, trampling sensitive areas and leaving some spots littered with trash—Yosemite is implementing new restrictions on traffic, parking, and park access in general.
Between the hours of Noon and 7pm daily between February 13th and 27th, a large swath of the park will be closed off entirely to prevent erosion and trampling of sensitive vegetation, and all visitors will need to park 1.5 miles away and walk to the area along one of two routes. Closed areas "will be monitored to ensure compliance."
You can read the full restrictions on the NPS site, or see them summarized in the infographic below:
But all of this may be for naught. While photographers will no doubt still try their luck, as of this morning, there is an alert posted to the Horsetail Fall webpage that warns would-be photographers that "Horsetail Fall has little to no water."
The warning provides no further detail, but with only two days left until the "start" of the event, landscape photographers who want to catch the Firefall will need to keep their fingers crossed.
---
Image credits: Header photos by National Park Service and Cedric Letsch, CC0